The electronic passport of the future
Overview
Enhancing international security with future-proof electronic passports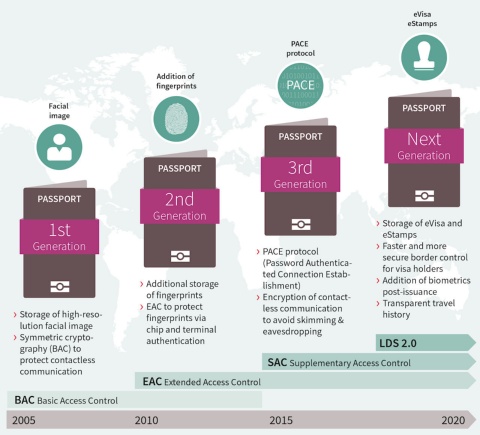 Passports are evolving rapidly from hand-written documents with glued-in photos towards fully digitized, electronic documents. The use of digital certificates has the potential to greatly increase national security. In addition, machine-readable electronic IDs greatly speed up passport control through automated border control gates.
However, biometric passports also present a number of challenges. Interoperability and trust are essential so that authorities can instantly recognize authentic passports from other countries.
In addition, electronic passport chips must support upcoming International Civil Aviation Organization (ICAO) standards such as LDS 2.0, which will enable storage of both personal biometric data and travel records like visas on the chip. Durability and high-performance contactless capabilities are also key success factors.
Partner of trust for today's electronic passport applications
Today, Infineon Technologies delivers the chips for more than 50% of all European passport projects and more than 75% of all ePassports in the Asia-Pacific region. We deliver award-winning security architectures that are fit for the future, already offering today's fastest passport processing speeds. Other factors in our favor include a high degree of standardization for seamless interoperability, wide protocol support and ICAO specification compliance.
State-of-the-art technologies for tomorrow's ePassports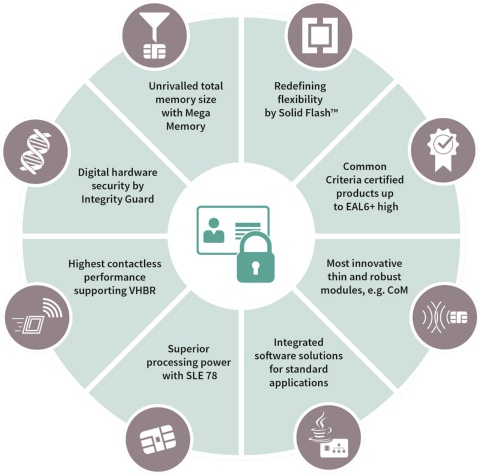 Our SLE 78 security controllers offer Integrity Guard digital hardware security, SOLID FLASH™ with mega memory and Very High Bit Rates (VHBR) for top performance. It thus delivers the speed and convenience expected by today's and tomorrow's traveler at border control.
Our integrated solutions also offer the best combination of hardware and software for easy design-in and fastest time-to-market. Customers the world over rely on our highly integrated, ready-to-go, highly certified platforms, scaling from low-end deployments to high-end multi-application schemes.
Our portfolio at a glance: