AIROC™ Automotive Wireless
Overview
Award-winning, wireless solutions for the next-generation connected cars
The AIROC™ automotive portfolio of industry-leading Wi-Fi and Bluetooth® combo solutions power the infotainment and telematics systems in today's connected cars. AIROC™ automotive connectivity solutions allow drivers and passengers to easily sync and stream content from mobile devices to the car's infotainment system and rear-seat displays, while enabling high-speed connectivity beyond the vehicle.
Infineon's pioneering Real Simultaneous Dual Band (RSDB) solutions provide simultaneous operation in both 2.4 GHz and 5 GHz bands as well as Multiple-Input Multiple-Output (MIMO) support. RSDB solutions provide the necessary bandwidth and the software architecture required to support complex use-case scenarios for cars, enabling combinations of AP, station, and P2P connections simultaneously. This allows automakers to support several simultaneous application scenarios: driver and passenger devices streaming high-bandwidth data and media content, mirroring phone/tablet displays (Apple CarPlay, Android Auto, and Mirrorlink), and external Wi-Fi hot-spot access for on-the-go connectivity without relying on cellular data service. All this while using Bluetooth® hands-free calling with the integrated Bluetooth® technology that provides coexistence support for shared Wi-Fi and Bluetooth® operation in 2.4 GHz band.
Automakers can leverage in-car Wi-Fi to deliver software upgrades and new features. Drivers can use a mobile device to check remotely on their car's location, gas levels and mileage. The same device can receive alerts about vehicle performance and diagnostics.
Wi-Fi is the communication technology for Electric Vehicle (EV) charging infrastructure, both for optimizing energy-transfer from the electric grid to cars and to facilitate convenient payment systems for car battery charging.
The AIROC™ automotive-qualified Bluetooth® devices enable connectivity between the car and the latest mobile devices and wearable gadgets. Support for Bluetooth's® Enhanced Data Rate (EDR) enables best-in-class wireless audio for hands-free calling and Advanced Audio Distribution Profile (A2DP) music streaming between a mobile device and the vehicle infotainment radio system. The portfolio supports narrow band and newer wide band speech capabilities with a variety of SmartAudio™ algorithms, including packet loss concealment and bit error correction. Bluetooth® technology also enables drivers to use their smartphones to adjust seat, temperature, and infotainment settings while providing vital data on automotive performance and diagnostics.
All automotive qualified, Bluetooth® devices offer an industry-standard Host Controller Interface (HCI) and can be used with almost any Bluetooth® stack, operating system and host processor.
Please contact us at auto-iot-rm@infineon.com to learn more about getting started with automotive qualified Bluetooth and WiFi + Bluetooth® combo devices.
Training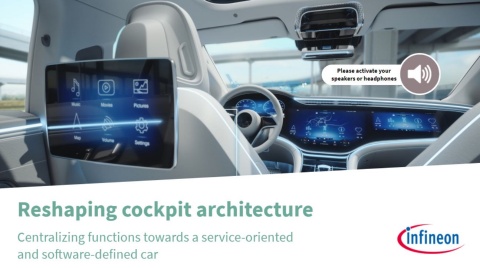 Description:
Understand the evolution of the cockpit architecture
Recognize the importance of the central modules like head unit and cockpit domain controllers and get to know Infineon solutions and their components