Overview
Reference board for efficient control of rotary fridge compressor drives powered by IMD111T motor control IC and RC-D2 IGBT
The REF_Fridge_D111T_RC2_SL board is a ready-to-use reference single-layer printed-circuit-board designed for refrigerator compressors. It demonstrates the whole Infineon solution including digital motor control IC iMOTION™ driver IMD111T-6F040 and the RC-D2 600 V discrete IGBT IKD04N60RC2.
The design can easily be copied to a final mass-production application board, and therefore has a fast time to market.
It can be easily interfaced through iMOTION™ Link. This tool is designed to program and debug different series of iMOTION™ motor control ICs. It is essential for tuning your motor control system.
Summary of Features
iMOTION™ driver IMD111T-6F040: ready-to-use motion controller with scripting engine and 6-channel silicon on insulator (SOI) driver
RCD2-600 V IGBT for lowest EMI and losses
System solution enables highly integrated, flexible design and lowest EMI
Benefits
Single-layer PCB for lowest manufacturing costs
Proven thermal design and EMI compatibility
Easy to design due to iMotion(TM) controller for fast time to market
Good efficiency at all output load levels
The reference board REF_Fridge_C101T_IM231 featuring IMC101T-T038 is a highly-integrated turnkey solution for low power compressors with high efficiency, accurate speed control and vibration suppression capability, enabling customers fast time-to-market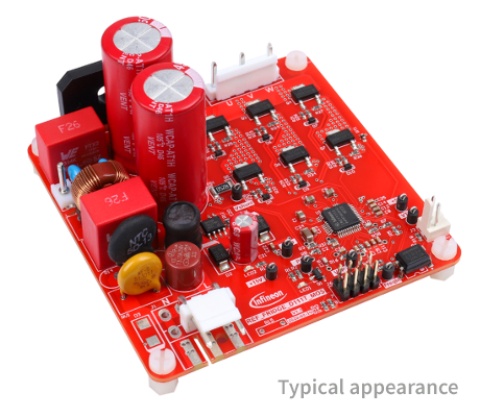 The Reference board REF_FRIDGE_C101T_6ED for efficient control of rotary fridge compressor drives powered by IMC101T motor control IC, 600 V SOI three-phase gate driver and 600V RC-D2 IGBT.
Diagrams