詳細
インタラクティブ・ダイアグラム (機能詳細は、マウスオーバーでご覧ください)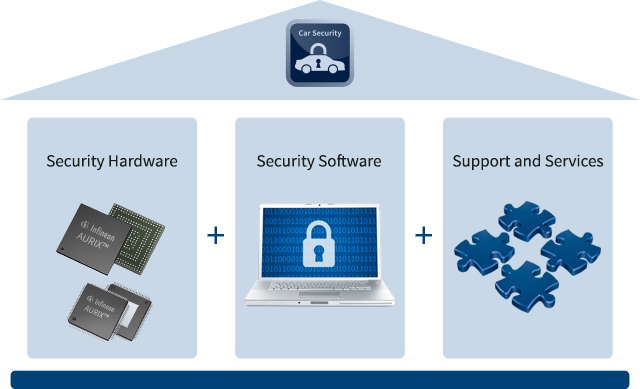 Infineon's AURIX 32-bit microcontroller family, with its embedded Hardware Security Module (HSM), is a perfect fit for automotive applications, where specific security functionalities are required. Typical examples of such applications are tuning protection, immobilizer, secure on-board communication etc. Infineon not only offers a scalable portfolio of compatible AURIX devices, with integrated HSM, but also the necessary SW packages as well as support services. This provides our customers with everything they need to fulfill the security requirements of their applications.
Typical automotive security applications, which can be addressed with AURIX microcontrollers, are:
| Tuning Protection | Immobilizer | Secure-on-board communication |
| --- | --- | --- |
| | | |


AURIX™ Security Solutions - Get more Information
Trainings
| | |
| --- | --- |
| | Understand how hackers use the CAN bus to interfere with in-vehicle communication, and be aware of how Infineon's AURIX™ microcontrollers support secure CAN communication. |
| | HSM Hardware Security Module |
Customer Support
Through its network of technical experts, Infineon can support its customers throughout their development process.
First level of support is provided by local field application engineers, second level more complex topics addressed by
dedicated automotive security experts.
Dedicated on-site consulting can also be organized, to help customers reduce development time and costs.
Please check our Preferred Design Houses for more information