EVAL_PASCO2_MINIBOARD
EVALPASCO2MINIBOARDTOBO1
Overview
XENSIV™ PAS CO2 Mini Evaluation Board - Measure what matters
The XENSIV™ PAS CO2 Mini Evaluation Board (EVALPASCO2MINIBOARDTOBO1) enables the fast prototyping & design of a CO2 sensing application using Infineon's revolutionary Photo Acoustic Spectroscopy (PAS) CO2 sensor.
Using a standard pin header, it can be plugged-in very easily in a target application board, providing flexibility to PCB designers.
The XENSIV™ PAS CO2 Mini Evaluation Board can be ordered in small quantities: this is more convenient in the early stage of an application development compared to a standard reel.
Summary of Features
Compatible with XENSIV™ PAS CO2 Sensor2Go Evaluation Kit for easy lab evaluation
Easy connection to application board with standard 2.54mm pin header – no reflow process needed
Access to all signals and functions of the product
Compatible with a combined PCB layout supporting reflow assembly for later use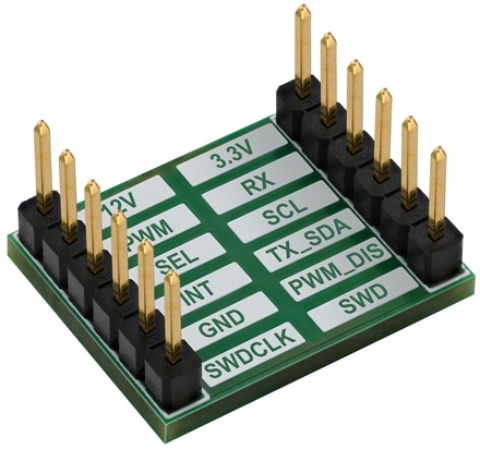 Get ready to measure what matters and register now!
Be one of the first informed when the new XENSIV™ PAS CO2 single sensor is in stock. Contact us!
Tools & Software

Infineon's Toolbox supports this platform with a software to enable the evaluation of XENSIVTM PAS CO2 performance.
Where to download the libraries* for XENSIVTM PAS CO2:
Arduino library: Arduino library for Infineon's XENSIV™ PAS CO2 sensor covering interfacing and code examples.
PSoC library: This library provides APIs to interface with the XENSIV™ PAS CO2 sensor that allows user to read the CO2 concentration.
* We don't have any library at the moment for apple support