DC/DC SBC Family
Overview
Infineon's highly integrated DC/DC System Basis Chip (SBC) family TLE927xQX offers best performance and scalability for various automotive applications. DC/DC SBC features a Switch Mode Power Supply (SMPS) voltage regulator with 5 V or 3.3 V output voltage, another 5 V low-drop voltage regulator, one CAN and up to four LIN transceivers complying with latest automotive standards and OEM requirements. The devices include failsafe features to support ECU functional safety concepts, wake-inputs to monitor trigger signals, very low quiescent current in low power modes with full wake-up capability. All devices feature an exposed pad VQFN-48 (7 x 7 mm) power package. The entire family is software compatible (also to other Infineon SBC products) and pin-to-pin within the DC/DC SBC family.
TLE927xQX family overview
&nbsp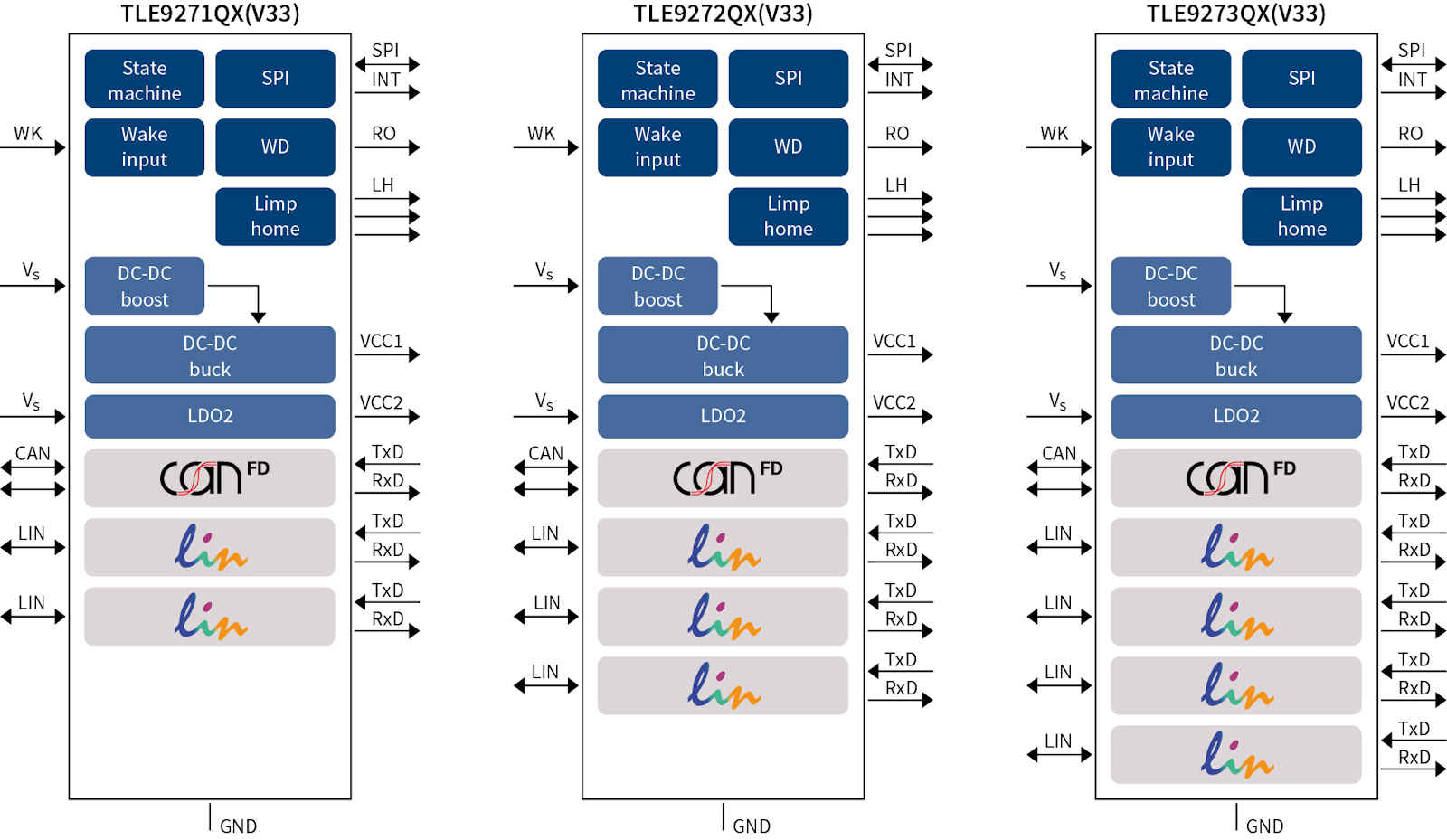 Details
Main features
Key benefits

Integrated high efficiency SMPS buck converter with edge shaping for optimized EMC performance (5 V or 3.3 V up to 750 mA)
SMPS boost controller to ensure operation at low supply voltage (VSUP > 3 V) with external power switching
Integrated low-drop voltage regulator (5 V up to 100 mA) protected for off-board usage
1 high-speed CAN transceiver ISO 11898-2 supporting CAN Flexible Data-rate (CAN FD) up to 5 Mbps and suitable for chokeless operation up to 500 kbps
Up to 4 LIN transceivers LIN2.2/J2602
Fully compliant to "Hardware Requirements for LIN, CAN and FlexRay Interfaces in Automotive Applications" Rev 1.3, 2012-05-04
1 HV wake input for wake status monitoring
Interrupt, reset output
Integrated fail-safe functions:3 fail-safe outputs, 1 fail-safe input, watchdog, fail-safe operating modes
16-bit SPI for configuration and diagnostics (compatible to all new generations of SBC TLE926x and TLE927x)
Voltage, current and temperature monitoring and protection

High efficiency SMPS buck and boost to supply high current even at low battery voltage
Low-drop voltage regulator for on- and off-board supply
CAN FD transceiver suitable for chokeless operation
Flexible number of integrated LIN transceivers
Very low quiescent current
Very small leadless package supporting AOI (Automated Optical Inspection)
Pin compatibility among all family members
Wide supply input voltage and temperature range
Reduced system cost through low component count and less PCB space
Excellent EMC and ESD performance meeting major car OEM requirements
Applications
Body control modules
Gateway
Climate control
Tools & Software
Development Tools/Support
Infineon tools in one place
The Infineon Toolbox integrates helpful software for our customers. For product development please use the
SBC ConfigWizard. Also other software for System Basis Chips as well as other Infineon devices can be found in the Infineon Toolbox
Tool
Devices
Description

Config Wizard

Lite SBC
Mid-Range+ SBC
DC/DC SBC
MCP+ SBC

Config Wizard for SBC allows easy configuration of Automotive SBC products.

Microcontroller Library

The Microcontroller Library is a plugin inside the "Config Wizard for SBC". It generates and provides a custom "C" code based on the user's configuration. The library can be integrated easily inside a microcontroller software project in order to configure, startup and handle all functionalities of the SBC.

The user's guide for this additional software can be found here.

Bode Plot

DC/DC SBC
MCP+ SBC
Lite SBC

Bode Plot Tool can be used to calculate and draw a Bode Plot for SBC products.

Power Dissipation

Lite SBC
Mid-Range+ SBC
DC/DC SBC
MCP+ SBC

This tool allows the user to calculate the power dissipation of a selected device and if applicable then of external power devices.

CAN PN Configurator

Lite SBC
Mid-Range+ SBC
MCP+ SBC

The CAN PN software is a design-in tool for Infineon SBC users. Based on generic input data, it creates a sample code that can be used from users as a starting point for their application specific software development. It shows, how the SBC must be configured to enable a specific functionality CAN Partial Networking.