NFC mobile payment solutions
Overview
Contactless payment and multi-application solutions for cards, smart accessories and wearables and other upcoming new form factors
The move away from cash and contact-based payment cards continues to accelerate. Contactless "tap and go" transactions using cards, smart wearables or mobile devices are increasingly replacing cash and contact-based transactions. Many experts have earmarked payment as the "killer app" for wearables. Customers are looking for flexible enablement platforms to support multi-application payment cards, supporting domestic payment schemes and project-specific requirements with the possibility to integrate multi-applications functionalities like ticketing applications.
Furthermore, consumers are demanding digital payment functionality through a more diverse, convenient and even "fancy" range of form factors. Accordingly, contactless technologies are making their way into a growing number of smartphones, wearable devices and Internet-connected "things" such as jewelry, key fobs and payment watches.
NFC payment solutions for connected smart devices and payment wearables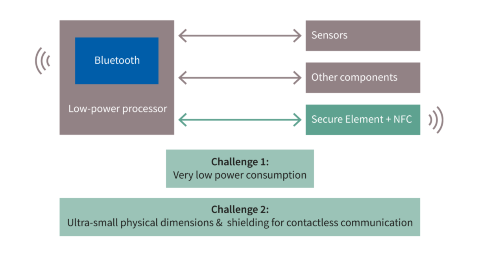 Smart devices with near field communication (NFC) capabilities are increasingly used for contactless payments. Beyond conventional smart devices like cellphones and credit cards, products such as armbands, chains implants, clothing and, most recently, rings have joined the fleet of secured NFC-capable payment devices.
Products
Infineon's boosted NFC solutions are optimized for smart wearables and IoT devices that typically have space limitations. They come either as an all-in-one 5x5 mm² System-in-Package or a 4x4 mm² multi-chip-package. The tiny 5x5 mm² package comprising Secure Element, booster IC as well as the integrated antenna is ideal for small wearable devices and manufacturers who prefer a ready-to-go offering. For device manufacturers that prefer an optimized contactless system as well as the lowest possible power consumption, the multi-chip-package enables to develop a right-fit external antenna to the specific device form factor needs.
Benefits of SECORA™ Connect boosted NFC
Boosted NFC architecture is much more power-efficient in comparison to modem-based solutions. Power consumption in standby mode is significantly less than the existing solutions in the market. Furthermore, the power consumption during peaks such as transactions is considerably low and can be optimized to less than 40mA.
Fast and easy integration of pre-approved and pre-loaded boosted NFC components into wearables or other IoT devices ensures the longest battery lifetime.
It enables a small PCB footprint and improved BOM since less external components are needed.
Being compatible with the boosted NFC, SECORA™ Connect passive NFC version also shares the same security system and applications as well as the same host interface, which allows design engineers to switch between the two solutions derivatives effortlessly. Passive NFC as 4.2 x 4 mm² SMD package uses external passive NFC antenna for contactless communication and harvests energy only from the contactless field of the reader; thus can operate in battery-less or power-down mode.
Benefits of SECORA™ Connect passive NFC:
Same host integration with boosted NFC version for connected user experience and applications. The solution provides more design choice with minimum development cost.
Zero power consumption during contactless operation. Besides, it also supports powered mode for remote provisioning.
Optimized with small external NFC antenna, which the customer can choose according to their need and purpose. On request, Infineon can provide consultation and guidance on external antenna design.