Device authentication and brand protection
Overview
Counterfeits are a growing concern for brand owners and consumers for a variety of reasons. Fake products compromise the user experience. In addition, they seriously undermine the brand value of system manufacturers and original equipment manufacturers (OEMs). Most importantly, they can also pose a risk to the health and safety of consumers.
Device authentication is an effective method to combat counterfeits and build trust. Adding effective security technology to embedded systems enables the authenticity of devices and systems to be verified. This contributes to customer satisfaction, safety, and brand protection. More importantly, authentication protects safety and functionality throughout the product lifecycle.
Infineon's device authentication and brand protection solutions offer sophisticated cryptographic security to protect your brand and the safety of your consumers against the ill-effects of cloned after-market devices. They help deliver a premium user experience by allowing only authorized accessories or disposables to be used with your device or system. This helps avoid damage to user devices as a result of non-original, sub-standard accessories or parts.

Infineon provides dedicated solutions for rising demands in this segment. The OPTIGATM Authenticate portfolio covers all applications where additional security functionality is required to verify the authenticity and identity of devices.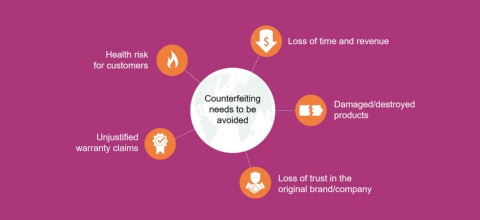 OPTIGA™ Authenticate solutions are built to verify the authenticity of devices. The family is optimized for all device authentication challenges. These easy-to-integrate, turnkey solutions combine robust security with unprecedented levels of configuration flexibility and build consumer trust through reliable authentication, quality and performance.
OPTIGA™ Authenticate S offers enhanced device authentication to counter the risk of counterfeits. It is a full turnkey device authentication solution that verifies the authenticity of electronics and replacement parts to protect Original Equipment Manufacturers (OEMs) and their customers against counterfeits.
All methods for authenticating a device or communicating with a device are built around the use of key(s). The key is a central element of all security schemes and needs to be safeguarded at all times, also through cryptographic measures.
Hardware-based security provides far stronger key protection than software-only solutions, which are vulnerable to software, micro-architectural and physical attacks.
OPTIGA™ solutions offer additional benefits beyond strong security and the latest certified security innovations. These include faster time-to-market, hardware-based performance advantages, proper security implementation, scalability across different platforms, secured logistics tracking, and reduced total cost of ownership.