Telecommunication infrastructure
Overview
Please choose a subcategory
Cutting-edge semiconductors for communications, network equipment and beyond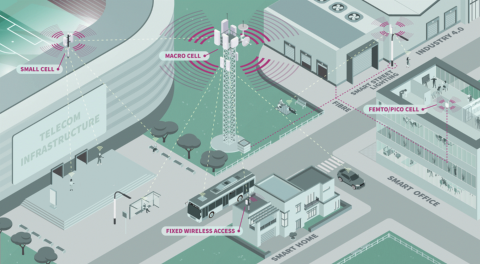 The promise of immaculate connectivity, greater performance, expanded coverage, which the ever increasing need for data is demanding, introduces new design challenges. These range from ensuring the security of communications throughout the whole data path, through guaranteeing reliable data transmission, to building a network that can efficiently handle high volumes of traffic. Through decades, Infineon has developed unprecedented know-how in the field of Telecommunications, spanning from Grid to Air, fortified by a vast portfolio of best-of-class high-quality semiconductor solutions.
The ever increasing data consumption, coupled with new levels of virtualization and complexity of the 5G telecom infrastructure, is bringing its demanding requirements into the telecom power arena. The outstanding improvements made in telecom SMPS performance in the past decade have been primarily brought by the dramatic reduction of the on resistance achieved in high voltage MOSFETs, using the revolutionary superjunction principle. This principle was introduced by Infineon at the end of the nineties with the CoolMOS™ series.
To achieve the current demanding, flat energy efficiency targets, it has been increasingly popular to employ synchronous rectification utilizing the unique performance of medium-voltage OptiMOS™ power MOSFETs. OptiMOS™ power MOSFET family, which has gained terrific popularity in DC-DC converters solutions, coupled with gatedriver ICs and microcontrollers efficiently powers the BBUs, RRUs and AAUs of the macro and the small cells.
Infineon's wide bandgap technologies, such as CoolGaN™ 600 V (gallium-nitride-based) and CoolSiC™ 650 V (siliconcarbide- based) for primary side and upcoming CoolGaN™ 100 V/200 V* for synchronous rectification, complement the wide portfolio of silicon-based switches, enabling highest electrical conversion efficiency and robustness at attractive system costs. Infineon's EiceDRIVER™ gate driver IC family perfectly matches the CoolGaN™ and CoolSiC™ wide bandgap products, and CoolMOS™ and OptiMOS™ MOSFET products.
The processors, SoCs and FPGAs that deliver 5G's reliability, bandwidth, low latency, and other advanced capabilities require an increasing amount of high-performance memory. Infineon has built a legacy of bringing the best of breed Random Access Memory (RAM) and non-volatile memory products to market, offering our customers the highest performance, quality and reliability. When failure is not an option, you can depend on our differentiated Infineon NOR Flash solutions for configuration and boot code data storage, and our advanced expansion RAM memories for data logging and data buffering applications.
Unlike competing memory technologies like NAND Flash, eMMC, and SD cards, Infineon's failsafe SEMPER™ NOR Flash devices deliver the needed density from 256Mb to 4G with unparalleled reliability, performance, and more than 10-year product lifecycles.
For your data logging needs, our EXCELON™ F-RAM delivers the industry's lowest-power mission-critical nonvolatile memory, by combining ultra-low-power operation with high-speed interfaces, instant nonvolatility and unlimited read/write cycle endurance.
If you are looking to add more RAM to your application, our HYPERRAM™ is a stand-alone pSRAM based volatile memories that are low power, high performance (up to 800MB/s of throughput) and low pin count that offers you an easy and inexpensive way to add more memory to your applications.