Overview
Make connected buildings smart with Infineon's full-spectrum portfolio
In order to become smart and take intelligent decisions, buildings need to be equipped with contextual awareness. Sensors will enable buildings to see, feel and hear their environment – just like our human five senses do. This way, they can collect meaningful data to feed the building's management system with relevant information.
At the same time, a building's energy consumption should be as efficient as possible. This also applies to its connected devices which are the building's backbone in the data collection process. Low standby power, high power efficiency, and reliability are hence crucial to ensure a building's sustainable and smooth operations.
However, an increasing number of connected devices also means an increasing number of potential security threats. IoT security, which is already embedded in the hardware, provides a secured foundation for connected devices in smart buildings to defend them against cyber-attacks.
Smart building solutions from Infineon
Infineon offers a broad portfolio of products to transform buildings into smart buildings, ranging from sensors and power management ICs to microcontrollers and security ICs.
XENSIVTM sensor portfolio for data collection in a building's environment.
Leading power MOSFETs and drivers for power-efficient devices.
Microcontrollers for data processing and analyses on the edge.
Security ICs, developed with proven expertise, for protection of IoT devices against security threats.
Additionally, Infineon has a long tradition in common building automation domains, such as lighting and HVAC. Explore the images to learn more about our expertise.
Lighting
Through energy-efficient LED lighting, drivers and intelligent lighting controls as well as sensor solutions, lighting plays a significant role in the energy efficiency and smartness of buildings. Additionally, smart lighting systems can immensely contribute to tenants' well-being while maximizing energy savings.

Find out more
HVAC
Smart HVAC systems reduce energy and maintenance costs of smart buildings while increasing tenants' comfort and satisfaction.
Security & surveillance
Next to access control, video surveillance systems will be most likely integrated into building management systems to better analyze the collected data. Sensor-enhanced systems will unlock next level energy efficiency and data quality.
Access control
Access control systems manage security critical areas of a smart building. Moreover, they can detect when someone is entering and leaving a building which delivers important information and functionalities if integrated with other domains in a building management system.
Power supplies
Power supplies play a crucial role in powering all elements of a smart building across domains. Hence, highly efficient power supplies are crucial for resourceful and energy-conscious buildings. Uninterrupted power supplies even ensure the smooth operation of a smart building and its connected devices when power is disrupted.

Find out more
Sensors
Sensors enable buildings to collect data on their environment and operations and react to the collected information in real-time. Therefore, sensors are the backbone of smart building use cases by equipping a building with smart senses. According to the application, a variety of sensors can be implemented.

Find out more
IoT security
With an increased number of connected devices in a smart building, the threat of cyberattacks is rising. To arm a building against this threat, hardware embedded IoT security is crucial.
Actuators
Following the logic of sense – compute – actuate, actuators connect the real and the digital world. According to the data and information they receive, they control their connected equipment accordingly, e.g. opening and closing shutters and valves. Infineon provides highly integrated motor control ICs as well as intelligent power modules (IPMs).
PoE
While Power over Ethernet (PoE) has been around for years, the latest standard IEEE 802.3bt increases the maximum power that can be delivered via a twisted pair Ethernet cable. The new standard was ratified in 2018 and opens the door for many new PoE applications.
Predictive maintenance
Condition monitoring facilitates insights into the actual state of devices in buildings by deploying sensors. They collect and provide solid data fundament for further data analysis enabling predictive maintenance.
Connectivity
Connectivity is one of the key features for Smarter Buildings, enabling devices to send and receive data in the Smart Building context. Many different types of connectivity such as Wi-Fi or Bluetooth/BLE can be deployed.
Tools & Software
Solution Finder – your guide to a successful design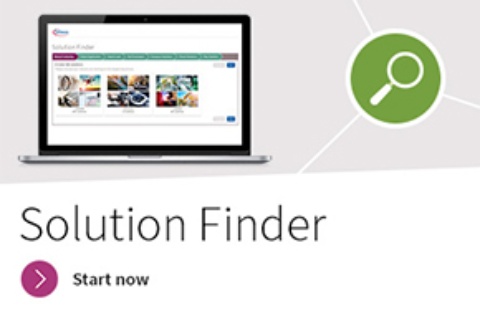 Use our Solution Finder to quickly and easily find, compare and purchase the right semiconductors for your project. Simply select your application and the online tool visualizes suitable components in useful system diagrams, which you can customize to your needs.
You can already access 400 solutions for motor control and drive applications in our tool. Coming soon: solutions for lighting, power supplies and other applications.