60 GHz Radar Sensor for Occupant Monitoring (OMS)
Overview
Enhanced comfort, convenience and safety for all occupants
The concept of occupancy monitoring systems (OMS) is relatively new compared to driver monitoring systems. The information from these systems can be used for turning on seat heating, seat belt alarm detection, smart airbag deployment, left behind life warnings, automated air conditioning systems and many more.
Compliance to (potential) legislation:
Forgotten child: Child Presence Detection (CPD)
Forgotten pet or object: Rear Occupant Alert (ROA)
Vital signs and health monitoring: Occupant Status Monitoring (OSM)
Convenience & Security:
Air Quality
Biometrics/Health
Intrusion Detection & Alert
Personalization
Seat Belt Reminder (SBR)
Seat Heating
Smart Airbag Deployment
Products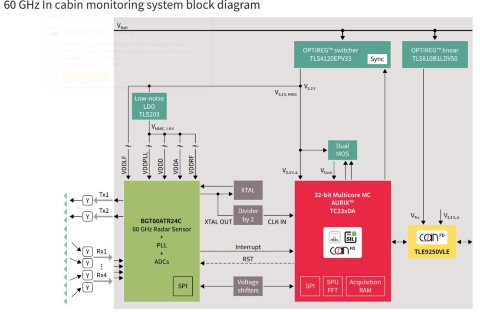 In-cabin sensing is a newly emerging market, which is expected to see a potential boost due to regulations and legislations worldwide. Radar is seen as one of the promising technologies to address not only passive safety applications like left-behind child detection or occupancy sensing. Novel signal processing techniques will potentially take these applications to a next level of robustness providing a good compromise between computational costs, degree of information needed for use-case as well as the power consumption of the system. In the future, the multi-sensor fusion approach is expected to penetrate much more robust systems by offering sensor redundancy.