XMC™-SC Wireless Power Controllers
Overview
XMC™-SC Wireless Power Controllers based on the ARM® Cortex®-M0 core, provide a powerful and cost-effective platform for high performance, smart and secure wireless charging applications
Description:
The XMC™ wireless power controller helps the next-generation wireless charging systems meet strict safety, environmental and regulatory requirements, while still enabling industry-leading charging performance and efficiency. This controller works seamlessly with Infineon's power devices in a scalable architecture to provide a complete charging solution for everything from a fast charge smartphone, to a 20 W robot, to a 60 W drone and beyond, to 80 W power tool applications.
Key features:
Supports Inductive and resonant charging methods
Power levels up to 80 W
Single and multi-coil transmitters
Pseudo random number generator
Variable and fixed frequency transmitter types
Single and multi-coil transmitters
Multiple industry standard and custom charging profiles using the same
hardware architecture Space saving VQFN-40 package
Half and full-bridge support
Buck and boost topologies
Supply voltage range: 1.8 - 5.5 V
Temperature range: -40 °C - 105 °C
Benefits:
Full power 15 W without exotic thermal management
Supports custom charging profiles and industry standards on the same hardware
Supports custom coils, and greater than three coils
Foreign Object Detection (FOD) with improved accuracy quality-factor monitoring
Achieves charging rates equivalent to wired charging
Foreign object detection capability can be extended beyond existing standards to improve detection
Choose Infineon to address your wireless charging requirements - We enable your consumer solution
Having a reliable partner by your side is the key to maximize the performance and consumer appeal of your wireless charging designs. At Infineon, we help you master every design challenge with our broad selection of semiconductors and reference designs.
Providing powerful and cost-effective solutions for high performance, smart, and secure wireless charging solutions supported by Infineon's unique wireless power controllers
Addressing both inductive and resonant standards
Providing solutions for applications beyond smartphones
Meeting charging requirements by ensuring better user experience for consumers
Offering innovative and unique reference designs for better transmitter and receiver performance
End markets for wireless battery charging
Highlights
Product Naming XMC Wireless power controller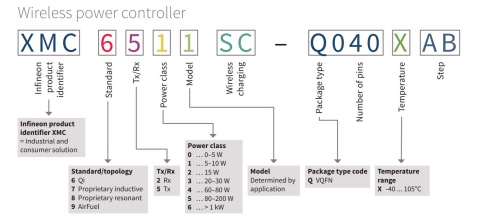 Details
Wireless charging standards