iMOTION™ Modular Application Design Kit MADK
Overview
Compact and flexible 3-phase motor drive evaluation platform with controller & IPM, sensorless or optional with sensors!
The Modular Application Design Kit (MADK) evaluation platform covers motor drive applications from 20 W up to 11 kW. The platform is offering a modular and scalable system solution with different control board options and a range of power boards.
Using MADK standardized Platform interface, different control and power boards can be combined in a system that perfectly matches the requirements of the application. The M1 interface supports control of one motor and the M3 interface adds control for a power factor correction (PFC). The M7 interface supports control of one motor and optionally a power factor correction (PFC) with a driver. With the integration of a gate drive, the driver is a cost-competitive solution for air-con and fridge applications. This modular approach allows developers a maximum in flexibility and scalability during evaluation and development phase at affordable costs!
Get a motor running in less than 1 hour with iMOTION™ controllers!
Modular approach allows a maximum in flexibility and scalability
Find the right system fitting your application needs:

Infineon Developer Community is available 24x7 for you to connect and network with engineers across the globe. Get help from Infineon support engineers, and expert members to solve your design challenges anytime, from anywhere, in any topic, and in your preferred language.
Highlights
Key Benefits
Applications

Easy to set up a complete motor drive evaluation system in less than 1 hour with iMOTION™ controllers
Fast time to market – reduced design time & effort
Standard iMOTION™ MADK M1 and M3 platforms enable modularity, flexibility and scalability
Scalable power levels with CIPOS™ Nano, CIPOS™ Micro and CIPOS™ Mini
MADK Block Diagram:
Key Features
Complete power stage to drive a 3-phase motor
Different power boards up to 11 kW motor drives
Solutions for 230 V or 120 V voltage grid
iMOTION™ MADK M1/M3 platform interface
Easy access to several measurement points with standard oscilloscope probes
This might also interest you
Training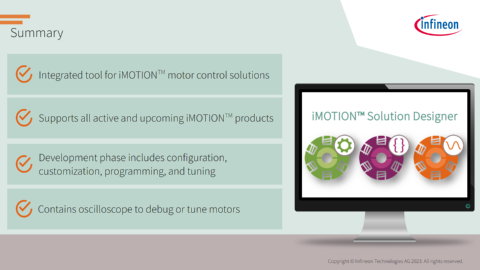 The iMOTION™ Solution Designer bundles all PC-based support functions related to setting up and running iMOTION™ products. This includes the configuration, programming and live tuning using configurable oscilloscopes as well as script editing and debugging. This training will help you get started with iMOTION™ Solution Designer.
You will find out what MADK boards are and what are their advantages regarding inverterization.