Overview
High performance in a small size – disruptive CO2 sensor based on photoacoustic spectroscopy (PAS)
Use Infineon's XENSIV™ PAS CO2 sensor to track the environment you are in – for improved health, productivity, and overall well-being.
Increasingly efficient building insulation can help to mitigate the effects of climate change, but heavily insulated buildings are not always good for human health. Poor ventilation can result in lower oxygen levels and a build-up of carbon dioxide (CO2). Even moderate levels of CO2 can have a negative impact on health and productivity. Already at 1000ppm, people begin to experience drowsiness and have difficulty concentrating. Consequently, CO2 sensor module manufacturers are facing a growing demand for smart indoor air quality sensors that can "smell" rising levels of CO2 and either alert the user or trigger a system response. Smart home CO2 sensors enable real-time CO2 monitoring for demand-controlled ventilation systems, air purifiers, and thermostats while allowing users to accurately measure and adjust indoor air quality.
With the recent pandemic, awareness of indoor air quality is rising, making accurate, affordable monitoring solutions such as the XENSIV™ PAS CO2 sensor more important than ever. It has been shown that a correlation exists between the concentration of CO2 and aerosols, one of the transmission pathways of viruses (like COVID-19 or influenza). Therefore, if we can reliably measure the CO2 level indoors using CO2 sensing technology, we can actively manage the risk of virus transmission.
Widespread adoption of CO2 sensors has so far been hampered by size, performance, and cost constraints. The XENSIV™ PAS CO2 sensor from Infineon leverages photoacoustic spectroscopy (PAS) technology to provide an exceptionally small, real CO2 sensor, overcoming the challenges of existing carbon dioxide gas detectors. Its unprecedentedly small form factor in SMD (Surface Mounted Device) package allows for smooth high-volume assembly and easy system integration. The unique CO2 sensor intuitively understands its environment, using disruptive and highly accurate CO2 sensor technology when measuring carbon dioxide detector levels.
Greenmap assessed the features of the XENSIV™ PAS CO2 sensor and officially recognized its alignment with the requirements of the international sustainability standards WELL and LEED.
The robust performance and state-of-the-art accuracy of the XENSIV™ PAS CO2 sensor make it an ideal fit for WELL and LEED compliance requirements. It helps to increase the value of real estate buildings and contributes toward earning points needed for LEED and WELL certifications by:
Bringing higher levels of wellbeing, comfort, and productivity to occupants.
Increasing operating efficiency and lowering energy costs through demand-controlled ventilation.
Lowering CO2 emissions significantly, thus conserving energy and contributing to climate protection.
Mitigating the risk of human exposure to hazardous chemical substances such as mercury and lead.
As a global leader in sensor technology, Infineon has developed a CO2 sensor chip that provides accurate, real-time CO2 measurement thanks to superior MEMS technology. The MEMS-based CO2 sensor uses Infineon's MEMS microphone which acts as a pressure sensor and is optimized for low frequency operation. The XENSIV™ PAS CO2 sensor module integrates a PAS transducer, a microcontroller, and a MOSFET on the PCB.
There are three CO2 sensor types that are mainly used in the industry. These include PAS (photoacoustic spectroscopy) CO2 sensors, NDIR (non-dispersive infrared) CO2 sensors, and EC (electrochemical) CO2 sensors. Infineon's XENSIV™ PAS CO2 sensor matches the performance of NDIR and EC CO2 sensors, while being more affordable and compact, making it the ideal solution for smart home and building automation applications.
Along with size and cost advantages, the sensor delivers superior accuracy, providing a direct readout of the real CO2 level, not simply a correlation. Infineon's leading position in MEMS technology is the foundation for this unique and accurate CO2 detection approach. Reliable CO2 sensor measurement enables smart CO2 measurement and monitoring of indoor air quality, allowing users to take control of their environmental conditions and experience improvements in health, productivity, and overall well-being.
Highlights
Disruptive environmental sensor technology from Infineon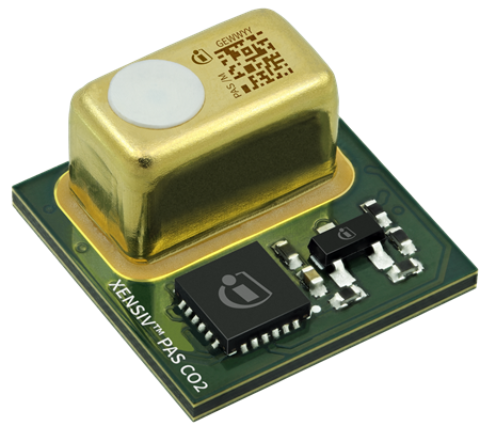 The XENSIV™ PAS CO2 integrates on the PCB the photoacoustic (PAS) transducer, including a detector, infrared source and optical filter; a microcontroller for signal processing and algorithms; and a MOSFET chip to drive the infrared source. The integrated microcontroller runs ppm calculations as well as advanced compensation and configuration algorithms.
The sensor uses a MEMS acoustic detector. The exceptional sensitivity of this acoustic detector coupled with the integrated PCB design reduce space requirements by more than 75 percent compared to commercially available real CO2 sensors. Therefore, the XENSIVTM PAS CO2 sensor outperforms state-of-the-art NDIR sensors in terms of size and cost, without compromising on performance.
Features
Benefits

Exceptionally small form factor (14 x 13.8 x 7.5 mm3)
Accurate and robust performance at ppm level (±30 ppm ±3% of reading)
SMD package delivered in tape and reel
Advanced compensation and self-calibration algorithms
Various configuration options (e.g. sampling rate, baseline calibration)
and interfaces (UART, I2C, PWM)

Space savings in customers' end products
High-quality data and compliance with smart building standards
Cost-effective high-volume assembly and easy system integration
Plug & play for fast design-to-market
Customer flexibility thanks to variety of configuration options
The Photoacoustic Spectroscopy (PAS) Principle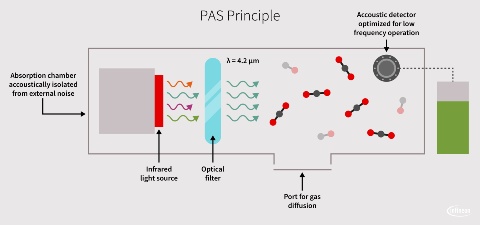 The PAS principle works as follows. Pulses of light from an infrared source pass through an optical filter tuned specifically to the CO2 absorption wavelength (λ= 4.2 µm). The CO2 molecules inside the measurement chamber absorb the filtered light, causing the molecules to shake and generate a pressure wave with each pulse. This is called the photoacoustic effect. The highly sensitive MEMS acoustic detector detects the pressure change generated by CO2 molecules within the sensor cavity, and the microcontroller converts the output into a CO2 concentration reading. In order to achieve a ppm reading as accurate as possible, the acoustic detector is optimized for low frequency operation, and the absorption chamber is acoustically isolated from external noise.
Applications
Key applications for air quality monitoring and/or demand controlled ventilation: