Overview
The TRENCHSTOP™ 5 is the highest efficiency discrete 650V IGBT technology on the market ideally suited for customers who are looking for outstanding efficiency and power density.
The TRENCHSTOP™ 5 IGBT technology has been released in 5 different variants - H5, F5, L5, WR5, WR6, S5 – optimized according to the switching frequencies and the best trade-off between switching and conduction losses required to deliver the highest performance in target applications such as Welding, RAC/CAC PFC, UPS, Solar energy systems and Energy Storage.
Not only through-hole packages but SMD package like D2PAK package are included in TRENCHSTOP™ 5 IGBT technology portfolio, which provides designers more flexibility to choose different packages in the same technology.
TRENCHSTOP™ 5 S5 is available in a small footprint package TO-220-3 which enables higher power density in a compact size for through-hole assembly.
Highlights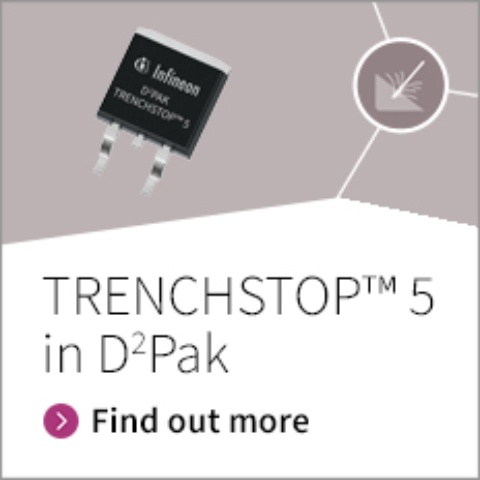 Ultra-thin TRENCHSTOP™ 5 IGBT technology from Infineon allows higher power density in smaller chip size. Infineon is the first on the market able to fit 40 A 650 V IGBT with 40 A diode in D2PAK package – 25% higher than any other competitor offering maximum 30 A Duopack IGBT in D2Pak. Now the upgrade of the available SMD designs for higher power output Pout is possible.
The 650V TRENCHSTOP™ 5 S5 in TO-220-3 package is suitable to use in applications that high current density in a small package size is required, for example, motor drive in corded power tools.
Now 28 A and 39 A current-ratings of TRENCHSTOP™ 5 S5 devices are available in TO-220-3 package.
This might also interest you