Most dependable automotive platform
The automotive industry is facing large structural change as vehicles are undergoing a profound transformation. The future car will link the real world with the digital world and will ensure safer and more efficient roads.
Let's take a look at automated driving, one of the automotive megatrends that promises to revolutionize the concept of mobility. For this change, cars will need an AI capable system with enormous computational power to enable the transformation towards a fully automated driving experience. In addition an interoperable and dependable system of electronics is required, such as sensors, specialized controllers, intelligent switches…Market experts are expecting the global number of highly automated and autonomous cars with automation level 4 and 5 to grow to several million units by the year 2030.
However, there is still one question that remains unanswered. Are consumers ready to accept such a complex technology jump?
Dependable electronics are the foundation for trust
It does not matter whether it's a system applied in cars, taxis, buses, trams, commercial and construction vehicles, forklifts, agricultural machines or any other urban public transport:
The greater the consumers' trust in the technology, the higher the technology's acceptance.
In order to build consumer trust, car makers will have to bring dependable systems that are highly available, safe and secure and that can operate in any environment, regardless of the roads' type and condition, the weather or the age of the car.
Infineon has been working hard to incorporate dependability into its automotive semiconductor product portfolio, and the new AURIX TC4x Microcontroller is no different. The AURIX™ family has set a benchmark for how a dependable microcontroller should behave, enabling safe and secure vehicles not only to match human's driving abilities but to by far exceed them.
But how to define dependability?
Dependability can be defined as the quality of being trustworthy or reliable. In order to have a dependable, safe and secure system that operates in all conditions, a series of system requirements needs to be fulfilled:
Automotive product quality – even beyond the standard whenever applications require it, bringing ultimate product robustness and reliability
High availability and fail-operational systems – developed according to the Functional Safety ISO 26262, ASIL-D
Cybersecurity performance – developed according to the requirements of the ISO 21434 standard, protecting the system from its environment
Strong system understanding, product innovation and operational excellence (business continuity)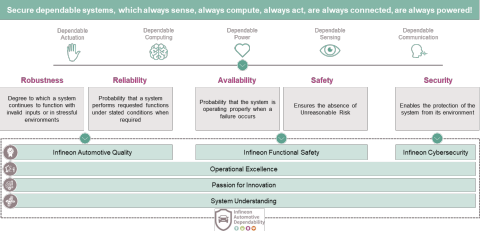 The new AURIX ™TC4x Microcontroller family fully complies with all the requirements above, being a key piece in the effort to build dependable systems. Not only automated driving applications can benefit from our dependable AURIX™ TC4x Microcontroller family but also classical car applications, like engine management, chassis, Gateway, safety, as well as electrification. Dependable electronics are the prerequisite of the autonomous, all-electric, fully connected car of the future.
We are proud to say that dependability of semiconductor solutions is part of Infineon's cultural mindset, as we want to enable automated vehicles that people trust.