Overview
Find the design resources, boards and product information you need

Infineon's integrated circuits and reference designs help you to develop TVs with next-generation semiconductor solutions, offering eye-catching thin designs and enhanced user experiences, reducing power consumption and increasing energy efficiency.
TV power supply design: Check our reference design of a 120W digital PFC-LLC converter with 85V AC~265V AC input and 12V/24V output. It is controlled by Infineon's 2nd generation XDP™ SMPS digital multi-mode PFC-LLC combo controller IDP2308 with an integrated 600 V startup cell, two IPD60R400CE are used in parallel for the PFC stage, and two IPD60R1K5CE are used in the LLC stage.
Discover best-fit products for your layout in our interactive block diagram below to design an LCD TV with ultra-low standby power, high brightness, excellent audio quality, next-generation smart control interface, and secure connectivity solutions.
Products
Secure and protect the connectivity and the smart TV: Equipping smart devices with the right security solutions from the get-go is key to helping prevent attacks and to maintain customer confidence in its brand and products. The OPTIGA™ Trust product family of hardware-based security solutions offers the right level of security to protect both data and devices in smart TVs.
Premium speech recognition: Provide your users with a best-in-class voice experience with the IM69D130 MEMS mic, ideal for applications that require low self-noise (high SNR) and distortion, a wide dynamic range, plus a high acoustic overload point. Once the voice is used, the design of your full product can be affected too, as buttons can be reduced or even eliminated.
Class D audio amplifier solutions: TVs requirement a great sound experience and acoustic design. In addition to producing exceptional sound quality, MERUS™ amplifiers can completely eliminate the need for bulky and expensive LC output filters and heatsinks.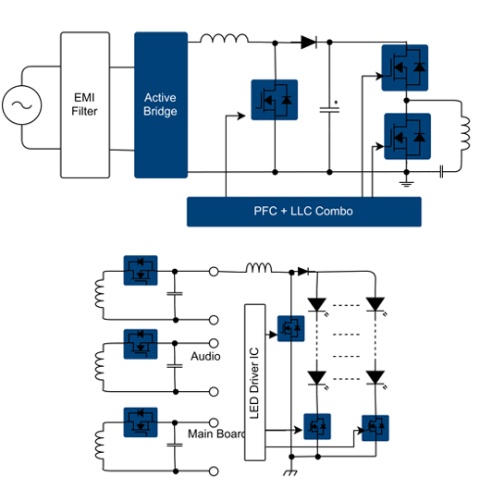 Differentiate with your power supply design
A slim SMPS board is a desire and also a challenge due to the limitations of active and passive components. Compared to FullPAK MOSFETs which are used in conventional TV SMPS design, DPAK MOSFETs have the advantage of being thinner and also easier to assemble.
Reference designs
This document describes the 120 W 24 V 3.5 A 12 V 3 A 85 VAC ~ 265 VAC input off-line PFC - LLC converter demoboard featuring Infineon's digital PFC-LLC combi controller IDP2308 and MOSFETs IPD60R400CE and IPD60R1K5CE.