Overview
48V / 12V DC-DC converter in buck-mode (step down)
In Mild Hybrid Electric Vehicles (MHEV), the only generator is on 48V. To continuously supply the 12V network with energy, a DC/DC converter in buck-mode (step down) from 48V down to 12V is mandatory. The same DC/DC can be used as well in boost-mode (step-up), but this is today rarely the case and may come into the game when highly automated drive functions are realized in 48V.
Infineon offers a complete and comprehensive system solution with high integration for space-saving ranging from supply IC's with integrated transceivers (SBC), microcontroller, gate driver, and high power MOSFET. The block diagram below shows the basic layout of the semiconductors used for an up to 3 kW DCDC 48V/12V converter.
Training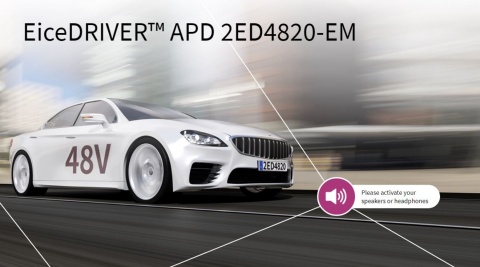 Get an overview of the main feature set of this 48-volt capable EiceDRIVER™.
Understand its different integrated protection mechanisms.
In this training you will:
Learn about the transition from fule injection combustion engine to full battery electric vehicles and the main 48V powered applications.
Additionally get an overview about Infineon's comprehensive MOSFET portfolio for 48 V applications and their support material.
Have an overview of the converters needed in electric vehicles.
Analyze the 2-quadrant converter topology in buck and boost mode and the half-bridge converter with center tap rectification topology.

Watch now