HiDock - The New Hybrid Work Speakerphone for Productivity by Sugr enabled by XENSIVTM MEMS microphones
Our preferred partner Surg has launched a 3-in-1 hybrid speakerphone, laptop hub and voice recorder featuring four high-performance Infineon's XENSIVTM MEMS microphones IM69D130. The new HiDock delivers a crystal clear full-duplex call experience. It combines the world-leading DSP algorithm, the 4K HDMI display extension. Sugr's new product brings studio-quality audio recording to the market with 100 W power delivery.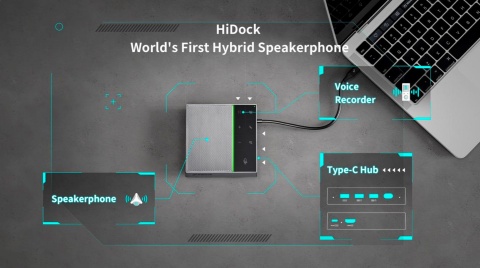 The HiDock is a compact device suitable for use at home or in the office, enabling a seamless collaboration of devices for an enhanced audio experience. The advanced voice command hit rate, audio quality and great user experience are facilitated by:
The patent pending VoiceZoom™️ algorithm reduces up to 45dB background noise, bring you exceptional voice capture

You will be heard clearly up to 5 meters by your team even in a noisy environment

High precision of audio beam and noise suppression

Hear and be heard clearly during the remote meeting, no need to be locked with the laptop

Best audio raw data input to voice-user-interface (VUI) algorithms
Music from loudspeakers has no impact on high-quality voice signal capturing
Immunity against pressure shocks from windows or doors.
Easily record your important meeting and ideas with the available built-in storage up to 500 hours
Infineon's XENSIV™ MEMS microphones introduce a new performance benchmark overcoming existing audio chain limitations – its performance is the key to the 5 meters voice pick up range even in noise environment, fine-tuned powerful audio in such a compact size. The IM69D130 is designed for applications where low self-noise (high SNR), a wide dynamic range, low distortion and a high acoustic overload point are required. This microphone supports far-field and soft audio signal pick-up. It enables precise steering of audio beams for advanced audio algorithms, making it the perfect fit for HiDock. Different power modes can be selected to suit specific current consumption requirements like those of battery-powered speakers.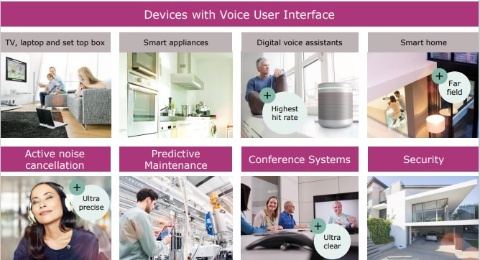 Image: VUI is entering not only the consumer market but it finds its application also business and industrial solutions
The number of devices with Voice-User-Interface (VUI) has grown tremendously recently as various industries incorporated VUI in their solutions. XENSIV™ MEMS microphones and cutting-edge audio processing are the key elements for making voice-controlled devices truly ready for everyday situations. Infineon's VUI partner network strives to facilitate their development and integration into a broad range of devices, from smart speakers to conferencing systems or smart home appliances.
For detailed HiDock information, please go to: