EZ-PD™ CCG2 USB Type-C to HDMI Adapter Solution
Overview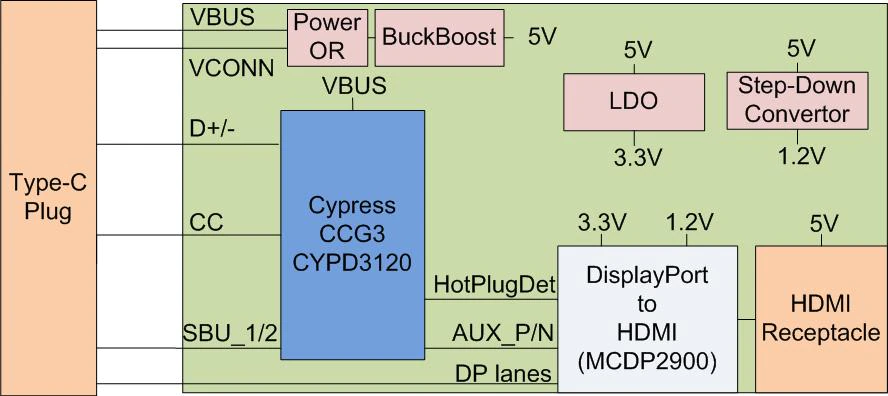 The Type-C to HDMI Adapter solution enables connectivity between a USB Type-C receptacle and HDMI plug. It enables users of any Notebook that implements USB-Type C to connect to a HDMI display.
This adapter solution will have a Type-C plug on one end and HDMI receptacle on the other end. This design can be also used for a Type-C to VGA adapter or Type-C to DVI adapter by replacing the DisplayPort to HDMI convertor with a DisplayPort to VGA or DVI convertor respectively. The adapter solution meets the requirements described in Section 4.3 of the VESA DisplayPort Alt Mode on USB Type-C Standard Version 1.0 (Figure 4-14: Scenarios 3c USB Type-C DFP_D to Protocol Converter). The solution also supports the USB Billboard Device Class used to communicate the DisplayPort Alternate Mode to a host system which does not support the DisplayPort Alternate mode. The adapter solution uses two Infineon devices; CCG2 – a Type-C Alternate Mode Port Controller and USB-Serial – a USB Bill Board controller.
CCG2 (CYPD2120) is Infineon's Type-C port controller which supports the DisplayPort as an Alternate Mode using the USB Type-C connector, in which several pins on the USB Type-C connector is re-configured to support the DisplayPort interface. CCG2 for the Type-C to HDMI Adapter solution is available in 24-QFN package. Infineon's USB Billboard controller (CY7C65210) on this adapter solution is a Full-Speed USB 2.0 device that supports the USB Billboard Device Class. This device is available in a 24-QFN package.
CY7C65210 belongs to Infineon's USB-Serial Bridge controller family and is similar to CY7C65211 which has a configurable USB to I2C/SPI/UART channel. The USB-Serial family has an underlying powerful architecture with a Cortex-M0 and 32KB flash which allows flexible variants of products such as the CY7C65210 billboard device, simply by developing custom firmware.
Infineon has developed a demo board (not for sale) to demonstrate connectivity between Type-C and HDMI. This demo board contains CCG2 (CYPD2120) in a 24-QFN package, USB Billboard controller (CY7C65210) in a 24-QFN package, Megachips DisplayPort to HDMI Protocol Convertor, a Type-C plug, a HDMI receptacle and several passive components. SWD headers are available for programming the CYPD2120 and CY7C65210 devices.
CYPD2120 and CY7C65210 are in production. Need help? Ask a question and find answers in the Infineon Developer Community.