Delivering quality for your business success – Infineon Automotive MOSFETs
Power you can count on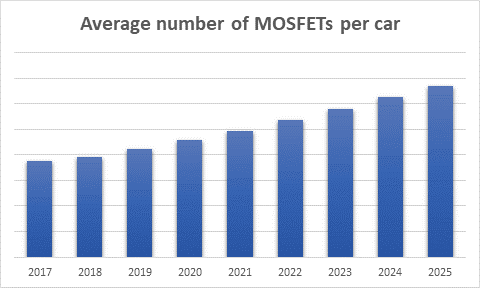 The highly competitive automotive market is advancing and growing at a rapid pace, especially in emerging countries. At the same time, in the age of smart cars, connectivity, and (semi-)autonomous driving, the latest generation of vehicles is increasingly reliant on electronic systems. To put this in perspective: an average vehicle today is equipped with around 90 power MOSFETs, a figure that is expected to grow by 40% over the next five years.
While new features and capabilities bring more enjoyment and convenience to drivers, and greater safety to the road, the MOSFETs behind these applications can be a source of failure, especially in application designs dictated by price instead of quality.
The risks and effects of such failures can be devastating for all parties involved. A failure can jeopardize the launch of new vehicles and lead to an increase in both customer complaints and demand for aftersales services. In the worst case for car manufacturers and suppliers, it can ultimately impact long-term revenue and affect their reputations.
By using high-quality components, like automotive MOSFETs from Infineon, engineers and automakers can help keep MOSFET-related failures to an absolute minimum. Our commitment to our customers' success and to overall road safety is proven by the fact that all automotive MOSFETs bearing our name uphold the highest-possible quality standards, far beyond AEC-Q 101.
Quality beyond the standards
Knowing exactly what carmakers and consumers need and expect, today and tomorrow, Infineon automotive MOSFETs go beyond the AEC-Q101 qualification standard. While the standard is valuable in its own right, it's not enough for us.
The reason for our choice becomes clear by examining AEC-Q101's weaknesses. For one, the standard neither covers untypical or stringent mission profiles nor does it track the stability of the manufacturing process over time. What is more, it does not consider dpm below 10,000. In comparison, our automotive MOSFETs are more robust and achieve the lowest-possible dpm rate of less than 0.1.
Why do we at Infineon exceed AEC-Q101? Because upholding high quality standards is a mindset that permeates our entire organization, even when this means going above and beyond. In this case, exceeding the standards is required to make cars that are cleaner, thanks to lower CO2 emissions, and safer, thanks to (semi-)autonomous driving features. Our ridged product qualification process ensures automakers receive the most reliable performance possible.
A fine-tuned approach and qualification process
The exceptional quality we deliver is the result of hard work and dedication. Essential to this is the fact that our high-quality automotive MOSFETs are defined, developed, manufactured and qualified exclusively for the automotive market. Moreover, our products are subject to an extensive testing and qualification processes and follow guidelines to ensure they are robust.
By an extensive testing and qualification process we mean moving beyond the mere datasheet parameters, exceeding the requirements of AEC-Q101 and using PAT (part average testing) in the front- and back-ends for power MOSFETs.
We ensure our products are robust by following a four-pillar approach: capture requirements, define automotive goals, monitor processes and test products. We start by defining dedicated automotive design goals based on 40 years of experience in the industry. Next, we gain in-depth understanding of the application and the requirements demanded by the product, technology and process roadmaps. Finally, we ensure that ongoing stringent monitoring of our product and processes as well as enhanced testing of robustness are maintained throughout the entire process.
The results are worth it: automotive MOSFETs with highest-possible quality.
Next-level benefits for automotive
By combining leading technologies with robust packaging, our MOSFETs ensure best-in-class performance in a range of automotive applications. But that's not all. You and your customers also enjoy the following benefits:
Discover endless applications
You'll find that our MOSFETs are deployed in a wide range of critical automotive applications. For instance, they drive a variety of electric motors, powering everything from heating and ventilation systems to windows and windshield wipers. Even the seat adjustment and the sunroof features are performed with the assistance of a MOSFET.
Valves in safety-critical applications such as electric power steering (EPS), electric braking and injection systems are also driven by automotive MOSFETs. Furthermore, they act as switches in DC/DC converters, battery management systems and inverters. The key takeaway: whatever your automotive application, we have the right MOSFET.
MOSFETs in today's cars

Why AEC-Q 101 is not enough
Why does the AEC-Q 101 standard even exist if it's not enough for today's automotive applications? That's a valid question. The answer: while AEC-Q101 is valuable, it's primarily based on typical mission profiles and less effective with untypical or stringent areas of application.
Another shortcoming: it's a one-time qualification, typically performed at the end of the development cycle. This means it neglects to consider the long-term stability of the production process. It also draws on a small sample size of just 3 lots of 77 pieces each. Statistically, and assuming a 90% confidence level, it cannot justify any dpm below 10,000, far from the dpm levels the tier ones and car makers need. We at Infineon volunarily exceed the AEC-Q 101 standard – for your success.
MOSFET packages: meeting your needs
For ultimate design flexibility, our automotive-qualified MOSFETs are available in a variety of packages to meet a range of needs. The newly developed integrated Half Bridge in the 5x6mm2 leadless package is an innovative and cost efficient solution for motor drive and body applications. In Addition, the Top Side cooling package in 10x12mm2 provides low heat input to the PCB and Best in class RDSon performance in 80V OptiMOS™ 5 technology for cost efficient 48V high power applications. Alternatively, the well known TO-Leadless (TOLL), Single and Dual Super SO8 (SSO8), Shrink Super SO8 (S308), D2PAK and DPAK are widely used packages providing leading performance.
All our MOSFETs come in robust, green packages in full compliance with RoHS/WEEE guidelines. Easy to handle, Infineon's leadless packages are designed to withstand temperatures of up to 260 °C during reflow soldering at MSL1 (Moisture Level 1) and have lead-free plating for RoHS compliance.
Going forward, at Infineon we are committed to maintaining our innovation leadership in automotive MOSFETs. Our mission: offer our customers a steady stream of improvements in current capability, switching behavior, reliability, package size and overall quality.
Soon, customers can look forward to new improvements in RDS(on) performance along with packaging enhancements on the same small footprints.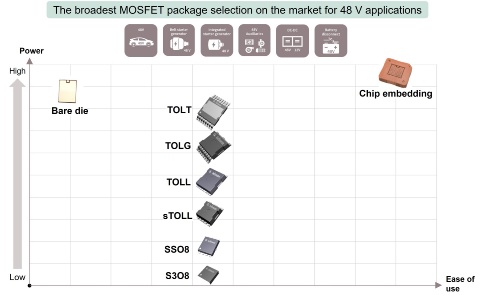 Cuts RDS(on) in half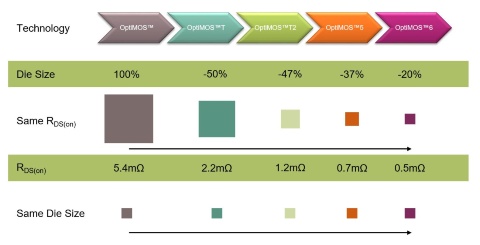 By improving the package and advancing the chip technology, Infineon is able to offer a product with 30% less RDS(on) when moving from OptiMOS™ 5 to OptiMOS™ 6 in the same chip size.
*Best-in-class OptiMOS™ 5 in 40V product and SS08 packaging compared to best-in-class OptiMOS™ 6 in 40V product and SS08 packaging
Why Infineon?
Infineon looks back on a 40-year history in the automotive market and has shipped more than 13 billion MOSFETs since 2010 alone. Our unparalleled know-how, skills and resources in the industry enable us to set benchmarks and develop powerful new technologies.
For instance, our latest OptiMOS™ 6 technology combines leading power MOSFET technology with leadless power packages for very compact and robust automotive system solutions.
All OptiMOS™ 6 products are based on our latest silicon automotive PowerMOS technology, optimized to meet and exceed the energy efficiency and power density requirements of automotive BLDC and H-bridge applications. Browse our portfolio and automotive application pages to learn more about the power and potential of Infineon automotive MOSFETs.
Proven over time: Infineon MOSFETs