Overview
With the enormous amount of energy being consumed in today's world and government policies to minimize carbon emissions, the shift to renewable energy makes reliably delivering energy where and when it is needed more challenging than ever. As a result, demand for energy storage systems is also on the rise. A critical component of any successful energy storage system is the power conversion system (PCS). The PCS is the intermediary device between the storage element, typically large banks of (DC) batteries, and the (AC) power grid.
AC/DC and DC/AC conversion takes place in the power conversion system (PCS). The energy flows into the batteries to charge them or is converted to AC from the battery storage and fed into the grid. In PCS, solutions below 30 kW are typically best served with discrete solutions such as, OptiMOS™, CoolMOS™, and CoolSiC™ MOSFETs as well as CoolGaN™ for more advanced, fast switching designs, while above 100 kW the modular approach CoolSiC™ and IGBTs modules and highly integrated 3-level Easy modules make the most economic sense.

The range in between is best examined on a case-by-case basis to determine the use of discrete or module solutions. Since every switch needs a driver, and every driver needs to be controlled, we offer the appropriate EiceDRIVER™ gate driver ICs as well as XMC™ and current sensor solutions. OPTIGA™ products round off the range and ensure data protection and security.
Products
Energy storage systems with power below 10 kW are usually used in residential areas and homes. The systems are commonly applying two stages that need to operate in bi-directional mode: DCDC and ACDC stage.
Infineon enables full system solutions with the highest efficiency and power density by applying market-leading Silicon Carbide (SiC) and Silicon (Si) MOSFETS as well as IGBT technologies paired with best-fit gate drivers.
Recommended products:
Having battery packs with a different state of charge (SOC) connected in series, this system is only able to operate until one pack reaches the minimum allowable charge level. At this point, the whole system is shutting down, even though other packs may still be sufficiently charged. In short, battery utilization is limited to the weakest battery pack.
To overcome this limitation, modularly cascaded, multilevel architectures have been developed that utilize the benefit of highly efficient, low-voltage MOSFETs such as Infineon's market-leading OPTIMOS™ family. Each battery pack is connected to its own directional power converter and the outputs of these converters are then connected in series to create the high voltage DC-bus.
By doing so, an equal current can be supplied from the outputs of each of these stages. With this added flexibility it is now possible for advance control schemes to balance the SOC of different batteries among all the packs by placing a heavier load on those packs with higher SOC, i.e. BMS functionality is a feature that additionally comes along with this solution.
Recommended products:
Low Voltage MOSFET (<300V): OPTIMOS™
Gate Driver IC: EiceDriver™
Highlights
Whitepaper: Silicon carbide MOSFETs for next-level power density in solar and energy storage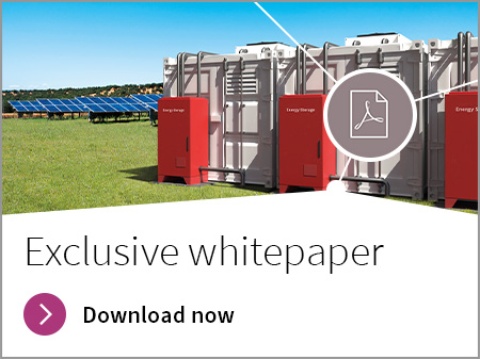 The latest generation silicon carbide semiconductors and CoolSiC™ MOSFETs enable a significant increase in power conversion efficiency in solar power generation systems and associated energy storage. Read more about these applications and how lower loss not only saves energy, but also results in smaller and lighter equipment with lower capital, installation, and maintenance costs.
From Solar and Wind to Energy Storage: Trends and Solutions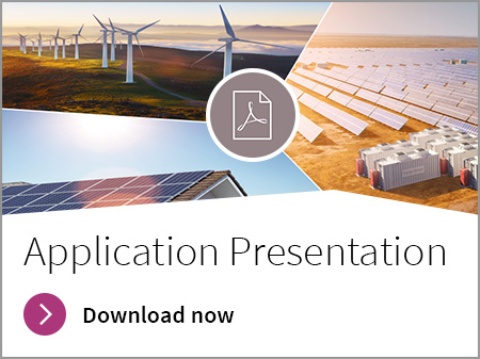 Learn about the application and power semiconductor requirements for solar, wind and energy storage systems. Understand how Infineon responds to the trends in the market of renewable energies and storage systems, e.g. inverter integration with CoolSiC™ MOSFETs. Get an overview of different solution offerings for solar, wind and energy storage systems.
From Renewables to Energy Storage - Trends and solutions offered by Infineon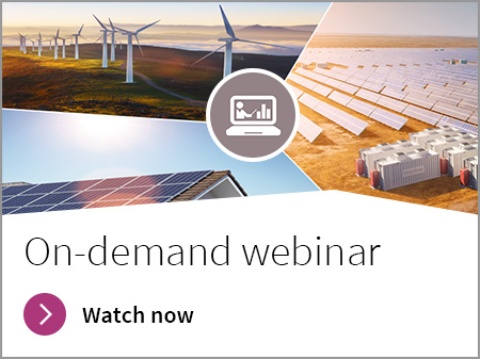 In the webinar, you will gain insight into renewables and the emerging applications of energy storage. Learn more about application trends and requirements, and understand Infineon's solution offerings for these applications.
Training
From the source to our home and vehicles, energy comes a long way. Infineon already supports with its technology in different segments of this process.
Come and get an overview of this energy journey!
Understand why to use WBG switches for bi-directional converters, the topologies used and how they function.
Every switch needs a driver, and the right driver makes a difference.
Infineon offers different isoalted gate driver families, such as the EiceDRIVER™ Compact and the EiceDRIVER™ Enhanced. Each family has different features to protect the switch and application.
The EiceDRIVER™ isolated gate driver offers advanced features such as reinforced isolation, Miller clamp, slew rate control and short circuit protection to protect the switch and application. It also enables condition monitoring and rapid prototyping.
The EiceDRIVER™ is the perfect fit for industrial application, particular in combination with Infineon CoolSiC™ and IGBT switches.