Wide Bandgap Semiconductors (SiC/GaN)
Wide bandgap, (WBG), semiconductors differ significantly from conventional semiconductors since they have a larger bandgap. A bandgap refers to the energy difference in semiconductors between the top of the valence band and the bottom of the conduction band. The larger distance allows wide bandgap semiconductor power devices to operate at higher voltages, temperatures, and frequencies.
Wide band gap semiconductor materials such as gallium nitride (GaN) and silicon carbide (SiC) are the ideal choice when looking for next generation of efficient power converter switches. However, each material offers certain advantages over the other. For instance, silicon carbide power semiconductors offer excellent voltage blocking for applications starting at 650V and provides even more benefits the higher the voltage.
The key for the next essential step towards an energy-efficient world lies in the use of these new WBG power electronics materials that allow for greater power efficiency, smaller size, lighter weight, lower overall cost – or all of these together.
Infineon offers the broadest product and technology portfolio including silicon, silicon carbide and gallium-nitride-based devices. As the leading power supplier with more than two decades of heritage in silicon carbide (SiC) and gallium nitride (GaN) technology development, Infineon Technologies caters to the need for smarter, more efficient energy generation, transmission, and consumption. Their experts understand what is needed to reduce system complexity, leading to decreased system cost and size in low- to mid- and high-power systems.
There is a long list of wide bandgap semiconductor advantages. For example, higher efficiency, thanks to wide bandgap semiconductor-based electronics, leads to increased power density as well as reduced size and weight and consequently lowering overall system costs.
Using wide bandgap semiconductor devices for power electronics also helps realize higher operating switching frequencies. This is especially important when ultimate power density is the target. GaN WBG semiconductors have a low total gate charge and a low voltage threshold of approximately 1.5 V, even at high frequencies, and gate-drive power is limited to milliwatts.
Wide Bandgap Semiconductor Product Solutions
Infineon's high efficiency wide bandgap semiconductor devices for power electronics product solutions are revolutionary. Our innovative and revolutionary technology implements high-performance wide band gap semiconductor materials and includes Infineon's CoolSiC™. Moreover, our CoolGaN™ solutions in both discrete and integrated power stages.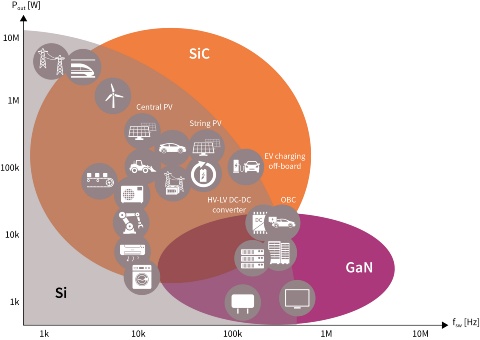 Wide bandgap semiconductor devices bring significant power efficiency to a variety of applications. Infineon's innovative portfolio of wide bandgap semiconductors is addressing state-of-the art electronics used in chargers and adapters for consumer applications, EV charging, telecom, SMPS, solar, and battery formation for industrial applications, as well as in onboard charging and high-voltage to low voltage DC-DC converters for automotive applications.
With its high-quality and highly efficient products, Infineon is a global leader in developing and bringing powerful and innovative semiconductor technology to the market. Our extremely compact and efficient designs are available in the broadest product and technology portfolio of silicon (Si), silicon carbide (SiC), and gallium-nitride (GaN)-based devices to provide our customers with the best solutions for their unique application requirements.
There are a number of differences between GaN vs SiC vs Si semiconductors. First, GaN semiconductors target voltages today ranging from 80V to 650V and offer medium power at the highest switching frequencies. With very high efficiency at maximum power density, both GaN and SiC semiconductors have lower switching losses than Si-based semiconductors.
When it comes to the differences between GaN vs. SiC power electronics semiconductors, SiC power semiconductors offer superior gate-oxide reliability, excellent ease of use, and are extremely robust and employ vertical transistor concepts compared to GaN, which is a lateral transistor.
GaN and SiC bring different strengths into the application solution space. However, their benefits depend on their application. For example, Silicon Carbide is superior when it comes to high-temperature and high-voltage applications, such as high-power string inverters. For high-temperature capability, a lower temperature co-efficient and high blocking voltage capabilities satisfy the application demands best.
GaN is superior when it comes to ultimate power density. This is especially the case in applications where construction volume is very limited, such as switched-mode power suppliers in datacenters since power levels increase in a given space. In this case, efficiency and high switching frequencies are combined to push the application to the next level which are impossible to reach by other technologies.