3-Phase Bridge Driver IC - Arm® Cortex® M3
Overview
Infineon`s 3-phase motor control solutions with CAN or LIN interface addressing BLDC motor applications
The MOTIX™ TLE987x and TLE989x families offer solutions for a wide range of smart 3-phase brushless DC motor control applications like auxiliary pumps and fans. They provide an unmatched level of integration and system cost to optimize the target application segments. In addition to this, they offer scalability in terms of flash memory sizes and MCU system clock frequency supporting a wide range of motor control algorithms, either sensor-based or sensor-less.
Moreover, TLE989x family with integrated CAN-FD interface is developed according to ISO 26262 providing ASIL B and security features.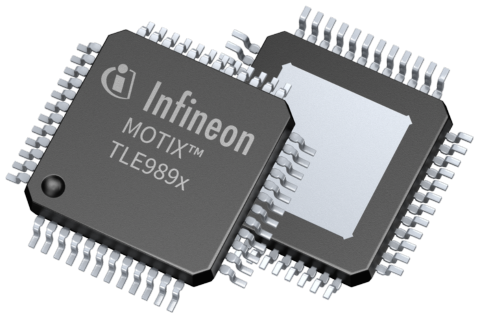 High system frequency (60 MHz) and dual flash (read-while-write)
Smallest fully integrated motor control solution with CAN FD
ISO 26262 compliance (ASIL B) and context segregation (layered access right management)
Infineon's patented Adaptive MOSFET Control (AMC) feature
Premium design-in support with software, tools and services
The new TLE989x devices use a B6 bridge N-channel MOSFET driver, an Arm® Cortex® M3 microcontroller, and a CAN (FD) controller and transceiver supporting a communication speed of 2 Mbps. Customers benefit not only from fast and robust communication but also from the highest computing performance.
MOTIX™ MCU TLE989x and TLE988x product teaser
New MOTIX MCU TLE988x H-bridge driver family with CAN (FD) interface

Infineon Developer Community is available 24x7 for you to connect and network with engineers across the globe. Get help from Infineon support engineers, and expert members to solve your design challenges anytime, from anywhere, in any topic, and in your preferred language.
Highlights
ASIL B and QM-parts in Functional Safety Applications
Infineon`s MOTIX™ embedded power ICs offer support for applications up to ASIL B.
TLE989x family is developed according to ISO 26262 providing ASIL B features, while TLE987x offers QM devices. Nonetheless they can be and are already used in a variety of motor control application that require Functional Safety (ISO26262) up to ASIL-B.
Infineon offers the following design-in support for its MOTIX™ embedded power ICs:
FIT data information (ISO26262)
Function/Blocks vs. Area Breakdown
If this data is required, please contact your local Infineon partner who can provide you with this information.
Partners
Together with our partners (Preferred Design Houses) we offer an optimized open market customer support for systems using our Embedded Power products. They are trained to provide application- and product-specific support.
Support Model
Properties
Classic
(Free of Charge)

First level customer support for Infineon Embedded Power products/ solutions
Technical interface and support to customer
Drive the design-in at customer
Basic trainings for design teams at customer
24 hours response time to the customer

Premium
(Consultancy Model)

to be agreed between customers and Preferred Design House

Project management & project-specific application support
Software development

Specification of general software architecture defining required layers, control and data flow structure etc.
Specification and implementation of custom device drivers
Optimization of software components with regard to speed/code size
Software testing

Hardware development
Manufacturing services