3-phase string inverter solutions
Overview

String inverters perform power conversion on series-connected photovoltaic panels, usually, these inverters are rated around a few kilowatts up to 200 kilowatts. String inverter typically relies on two-stage power conversion. In general, most of the inverter designs are transformer less or non-isolated.
First DC-DC stage converts variable DC voltage into a fixed DC voltage, at the same time ensures maximum power been extracted from PV panel via MPPT (Maximum Power Point Tracking) technique.

DC-AC stage converts DC power into grid compatible AC power. Either level 2 or level 3 topology is preferred in this stage. In particular, level 3 topology is widely used for its higher efficiency. Mainly for 1000 V PV array system, Level 3 NPC1 / NPC2 is preferred. Level 3 NPC1 enables to use of 600 V devices and allows more than 20 kHz switching frequency operation even for oversized PV panel. Level 3 NPC2 uses both 600 V and 1200 V device, the best fit topology for less than 20 kHz switching frequency operation. For the 1500 V PV system, Level 3 ANPC is widely used for its higher cosmic ray and its higher efficiency over the full range of power factor operation. The size and weight of the inverter highly depend on the AC filter and cooling system, the higher switching operation is desirable to reduce the size and cost of the system.
Infineon offerings for designs up to 200 kW
It is common to build a single inverter of 5 kW up to 200 kW, further connect them in parallel to reach power level up to 20 MW.
In commercial and utility-scale applications, inverter design ranges from 20 kW to 200 kW. It is possible to achieve the best in class power density and high ease of manufacturing by using Infineon's module products. This includes our CoolSiC™ Easy Module and 3-level Easy module. All switches need a driver and all drivers need to be controlled. That is why we also offer the right EiceDRIVER™ gate driver as well as the XMC™ microcontroller for your inverter design. Finally, each functional block needs a sensor and auxiliary power supply, which is why we offer CoolSET™ and the TLI4971 current sensor.
Products
Choosing the right solution for your 3-phase inverter design results in a combination of sophisticated digital control technology with efficient power conversion architecture to achieve excellent solar power harvesting and reliability. There are several main topologies used in the power stages of 3-phase string inverters. All of these topologies can be equipped with a booster stage to achieve a wide input voltage range and the opportunity to implement the MPPT algorithm.
Find the right products for your design topology within Infineon's industry-leading power portfolio:
Trends and requirements of 3-phase string inverters
Increasing focus towards grid parity placed huge price pressure on manufacturers. As a result, the industry moves from 1000 volt solar arrays to 1500 V solar array and oversizing of PV power plants becoming the clear trend in big commercial and utility-scale installations.
Lightweight String inverters are gaining popularity in these markets up to 20 MW. They enable great design flexibility, easy transportation and are also quickly and easily replaced by two persons with a few clicks.
Based on our deep application know-how in solar and related industries, we can reduce learning cycles and provide fast customization through proven short flow processes. In combination with the strength of Infineon's 1200 V CoolSiC™ MOSFET and TRENCHSTOP™ IGBT7 and EiceDRIVER™ galvanically isolated gate drivers enable our customers not only to reduce system and operational cost significantly but furthermore help to harness never before seen levels of efficiency and power density.



Highlights
New whitepaper: Silicon carbide MOSFETs for next-level power density in solar and energy storage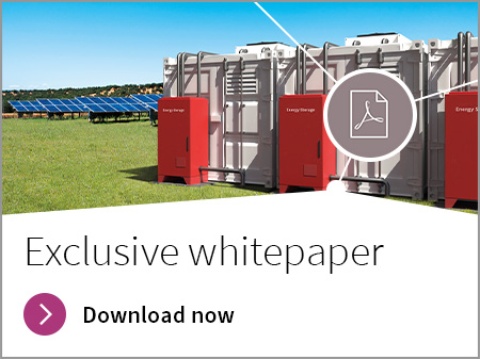 The latest generation silicon carbide semiconductors and CoolSiC™ MOSFETs enable a significant increase in power conversion efficiency in solar power generation systems and associated energy storage. Read more about these applications and how lower loss not only saves energy, but also results in smaller and lighter equipment with lower capital, installation, and maintenance costs.
Application presentation: Exploiting the unlimited potential of Solar energy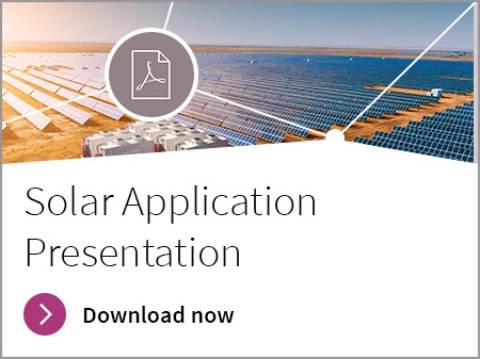 This presentation gives you an overview of topologies, technological trends, and requirements of solar applications. Find out more about our offering for each inverter type – from the microinverter to the central and string inverter. Check our recommendations for your application, and you get your customized module in a five-month timeframe.
On-demand webinar: From solar and wind to energy storage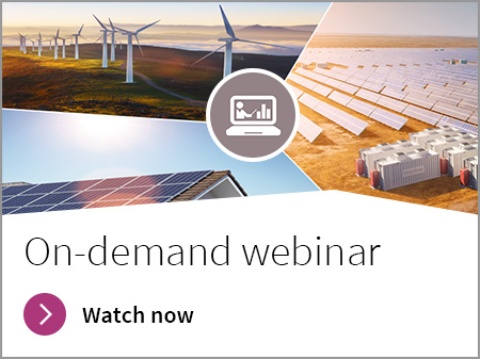 In the webinar, you will gain insight into renewables and the emerging applications of energy storage. Learn more about application trends and requirements, and understand Infineon's solution offerings for these applications.