PMIC - Power Management IC
Overview
Infineon's power management IC (PMIC) portfolio covers a wide range of embedded applications for IoT, automotive, industrial and consumer products. Our innovative power management technology solutions enhance the performance and reliability of electronic systems.
Products
Energy Harvesting PMICs are tiny, low power solutions. Infineon's Energy Harvesting PMIC portfolio offers breakthrough low quiescent and start up current requirements that enable compact energy harvesting systems.
The S6AE10xA family of Energy Harvesting Power Management ICs enable tiny, solar-powered Internet of Things (IoT) devices. They are the world's lowest-power, single-chip Energy Harvesting PMICs, and can be used with solar cells as small as 1 cm2 due to their low startup and quiescent current. The PMICs are highly integrated, with family members offering power gated outputs, low dropout regulators, CR timers, comparators, and battery backup operation. They are ideal for battery-less Wireless Sensor Nodes (WSNs) that monitor physical and environmental conditions for smart homes, commercial buildings, factories, infrastructure and agriculture.
Find all documentation and design support for
S6AE10xA family of Energy Harvesting Power Management ICs
Infineon's automotive power management ICs (PMICs) provide highly-integrated and robust power management solutions for automotive applications. The PMICs support comprehensive power supply for the system by a small form factor.
Check Infineon's automotive PMIC family OPTIREGTM portfolio providing integrated, multi-rail power supply solutions especially in the segments chassis, safety, powertrain, and electrical drive train.
The former Cypress' solution portfolio complements our automotive MCU family and provides comprehensive power supply by a small form factor. Boost function integrated in the PMICs avoids system blackout under extreme battery voltage fluctuations. Low quiescent current of the PMICs reduce standby current of always-on functions. The PMICs comply with AEC-Q100, and rich system safety functions help to comply with modern vehicle ECU requirements.
S6BP20x One-channel Buck-Boost DC/DC Converters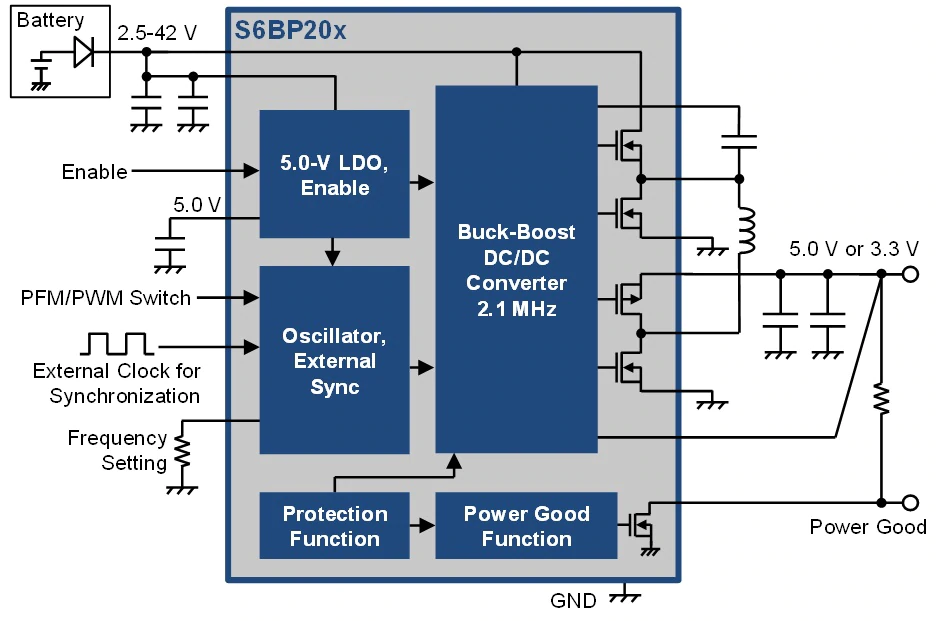 S6BP20x series (S6BP201A, S6BP202A, and S6BP203A) PMICs are automotive grade, one-channel buck-boost DC/DC converters for automotive and industrial applications. They are ideal for automotive applications such as Body Control modules, Instrument Clusters, and ADAS. These PMICs have low standby current, and provide stable power output across a wide range of input voltages.
Key Features:
1-channel buck-boost converter
Input voltage range: 2.5V–42V
Maximum output current: 1.0A (201A), 2.4A(202A, 203A)
Switching Frequency: 200k–2.1MHz
Synchronization with external clock from 200kHz–400kHz
Maximum operating temperature: 125°C
S6BP50x Three-channel Instrument Cluster PMICs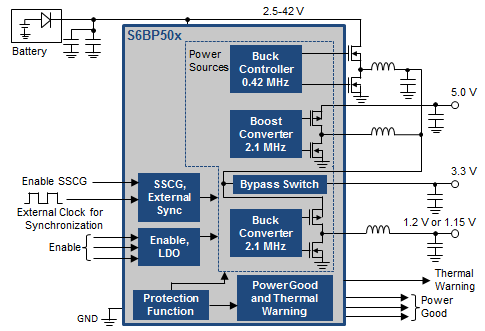 S6BP501A and S6BP502A PMICs are automotive-grade, 3-channel output power management ICs (PMICs). They come with a buck controller and a buck converter, as well as a boost converter, offering a single chip 5.0V, 3.3V, and 1.2V power source. These PMICs have quiescent current as low as 15μA, and are well suited for Instrument Cluster systems.
The S6BP501A and S6BP502A PMICs integrate a Spread Spectrum Clock Generator (SSCG), and can synchronize with external clock signals for EMI counter measures. Additionally, they have built-in thermal warning indicators and power good monitors that support System Safety Functions.
Key Features:
3-channel Power management IC (1-channel high-voltage buck controller; 1-channel buck converter; 1-channel boost converter)
Input voltage range: 2.5 V-42 V
Quiescent current:. 15 μA
Switching frequency:
VOUT1V, VOUT5V
Internal clock operation: 2.1MHz
External clock operation: 1.8MHz-2.4MHz
VOUT3V (one-fifth-divided clock)
Internal clock operation: 0.42MHz
External clock operation: 0.36MHz-0.42MHz
Built-in SSCG
S6BP401A Six-channel Advanced Driver Assistance System PMIC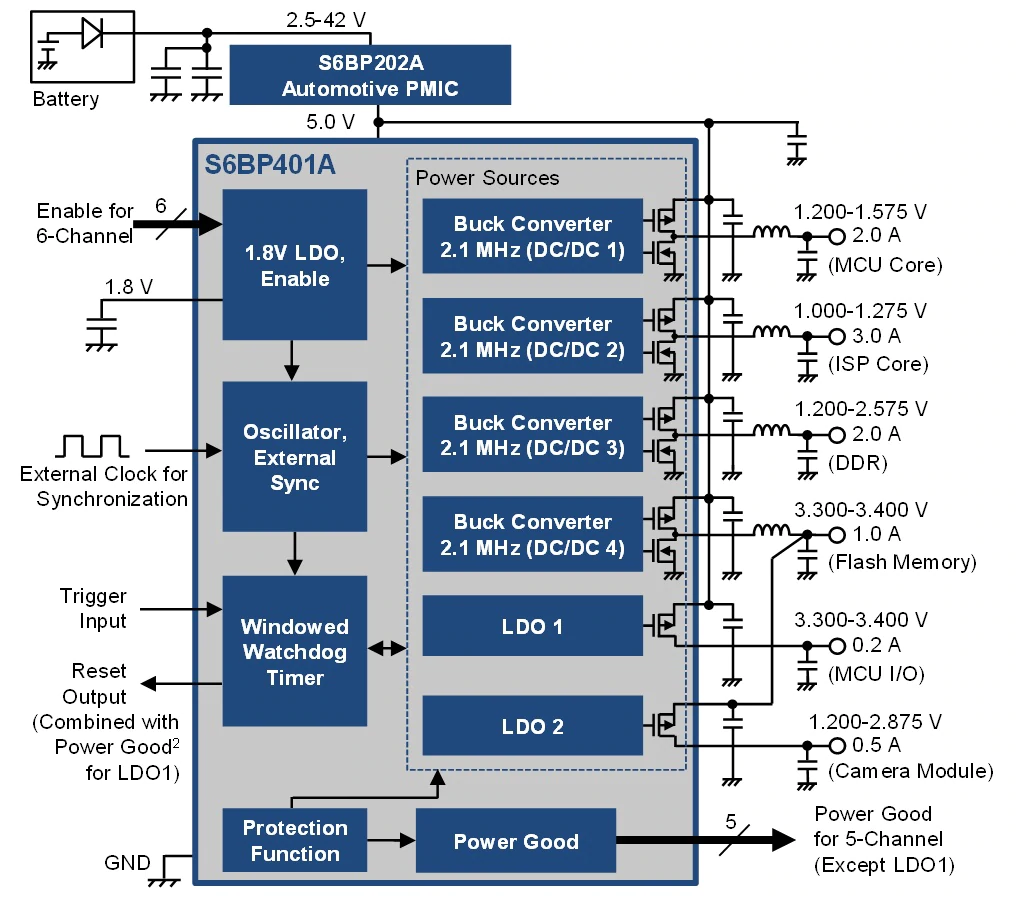 S6BP401A Automotive PMIC has been created for Advanced Driver Assistance Systems (ADAS). This single-chip power management solution has a 6-channel power output, which includes a 4-channel DC/DC converter and 2-channel LDO. Integrating output setting impedance and phase compensation circuits internally for all channels, the S6BP401A reduces the PCB size and bill of materials, enabling a smaller, cost-effective ADAS.
The S6BP401A PMIC is equipped with a built-in windowed watchdog timer, separate pins to turn on/off each channel, and dedicated pins to monitor the power integrity of each channel.
Key Features:
6-ch Power Management IC: 4-ch Buck converters, 2-ch LDOs
Input voltage range: 4.5 V-5.5 V
Switching Frequency: 2.1 MHz
Synchronization with external clock from 1.8 MHz to 2.4 MHz
Maximum operating temperature: 125°C
BOM INTEGRATION
Built-in switching transistors and LDO output transistors
Built-in voltage setting resistors and compensation circuitry
Built-in discharge resistors
SYSTEM SAFETY FUNCTION SUPPORT
Over Voltage Protection (OVP)
Under Voltage Locked-out (UVLO)
Thermal Shut Down (TSD)
Over Current Protection (OCP)
Independent Power Good pins
Built-in windowed watchdog timer (WDT)