Battery cell balancing and monitoring
Overview
Optimize system performance by cell balancing and monitor key battery parameters
When designing a BMS, the designer often starts with the cell monitoring and balancing (CMB) device. The CMB device is also known as the BMS IC or Analog
Front End (AFE). Often located on a Cell Management Controller (CMC) unit, the CMB's function is to measure the voltages and temperatures for cells and communicate this information to the main controller. Additionally, the CMB can undertake diagnostics of cells and their surrounding (for example, detecting connection failures in the circuit surrounding a cell such as open or short circuits). The values monitored by the CMB are then used to:
Check if the cells are always operating within their safe operating area (SOA) and report if they reach their SOA limits
Measure the voltages of the cells for the state of charge (SoC)
Report the cell temperatures for the thermal management of the pack
The CMB device is also responsible for balancing the cells. Cell imbalance comes from the fact that high voltage batteries are built out of many single cells in series, which inevitably have production variances, for example in cell characteristics or the heterogeneous thermal spreads in the final pack.
Additionally, to achieve extreme low-power dedicated housekeeping functions such as periodically scheduled cell measurements and state analysis required for functional safety can be performed by the CMB independently from the master controller of the BMS. Safety features for signaling over-/under-voltage, thermal stress, etc. including emergency alarms are triggered autonomously.
Products
There are two main CMB topologies that are characterized by cell count and isolation requirements. The higher the series cell count of a battery pack the more the CMB devices are required to be stacked. This means that CMB devices might need to be isolated, especially in High Voltage BMSs where the battery pack needs to be isolated at all times and the master controller is connected to the 12V domain.
To resolve the isolation issue, two topologies are recommended:
In the wired BMS topology, Infineon offers isolated-UART transceiver solutions with exceptional robustness for both capacitive and inductive types of isolation. The iso-UART offers a robust high-speed communication link across multiple daisy-chained monitoring devices and supports complex cell topologies for a battery. For additional robustness, the daisy-chaining realizes a redundant ring, which keeps communication up between all connected ICs in case of a broken link. CRC-protected data frames complement communication robustness.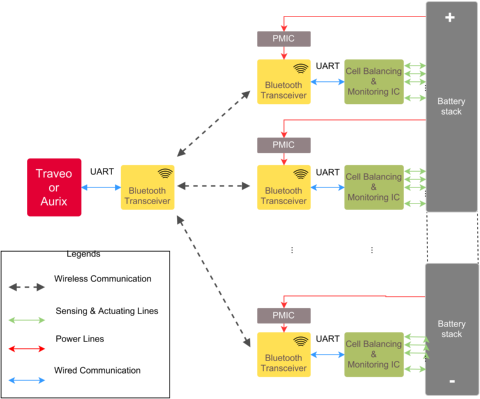 Another method to isolate the CMBs and as such insure the isolation of the battery pack is to use wireless transceivers. The advantage of the wireless topology is that isolation is fully guaranteed at all time.
Infineon offers a set of automotive grade bluetooth devices supporting BLE connected mesh and offering superior network availability and communication bandwidth