Overview
Filling the gap between home and highway with scalable DC charging
Electric vehicle (EV) owners are no longer city-dwellers or short-distance commuters. That is why it is critical that charging opportunities are not exclusive to the home or office. High-power DC chargers up to 350 kW offer fast-charging opportunities along the highway for quick top-ups, but chargers up to 150 kW are the perfect solution for daily use in cities, filling the gap between residential and highway applications.
Fast EV charging up to 150 kW is becoming the preferred choice for urban areas and commercial applications because of its modular design and resulting scalability options. A single 50-kW unit can charge for 200 km in about 48 minutes, while stacking three of these 50-kW subunits or five 30-kW subunits into a 150-kW charger could cost-efficiently provide the same charge in about 16 minutes. While both options may take too long for a driver stretching their legs at a rest stop, they provide the perfect amount of time to buy some groceries or have a meal, giving drivers the opportunity to quickly and conveniently top up their battery throughout the day.
Infineon's offering for designs up to 150 kW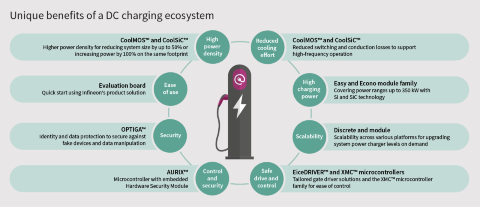 When designing high-power DC chargers up to 150 kW, there are many considerations – from secure data and communications, to reliability, efficiency, and price. Infineon offers the most comprehensive portfolio on the market. With our combined system solutions that utilize the best products and technologies for your application, you will achieve the best price for performance, while benefitting from our experts' extensive system competence. This includes our 600 V CoolMOS™ SJ MOSFET P7 and CFD7 families, our 650 V TRENCHSTOP™ IGBT7 T7 family and our 1200 V CoolSiC™ MOSFET. Our high-voltage switches portfolio is complimented by 650 V and 1200 V CoolSiC™ Schottky diodes. Since every switch needs a driver, and every driver needs to be controlled, we also offer the right EiceDRIVER™, as well as XMC™ and AURIX™ microcontrollers for EV charging designs. OPTIGA™ products round out the offer, ensuring data protection and security.
With a broad portfolio of high-quality discrete solutions, Infineon offers the right electrical components to create efficient, cost-optimized EV charger designs. Simply put, Infineon is the only one-stop shop for fast DC EV charging that enables you to achieve higher efficiency and increased power density.
Technology trends
An EV charging system with a power rating between 30 kW and 150 kW typically relies on two-stage power conversion architecture. This features an AC-DC power conversion stage on the grid side and an isolating high-frequency DC-DC power conversion stage on the battery side. It combines base subunits of between 15 kW and 30 kW stacked to deliver up to 150 kW of power. Lower power subunits add functional modularity to the system, enabling a cost-efficient converter design consisting of discrete power components. Explore a system diagram of an EV charger up to 150 kW here:
Products
System diagram: DC EV chargers up to 150 kW
Topologies and conversion
An AC-DC system comes after an EMI filter and serves as a controlled rectifier. Either level 2 active front end (AFE) or level 3 Vienna Rectifier topology is preferred for this stage. Both topologies ensure a stable DC link voltage based on the charger's power rating, reaching up to 900 V. In particular, Vienna Rectifier is widely used for its higher efficiency and softer EMI signature. It also enables usage of 600 V power devices. Thanks to components like 1200 V CoolSiC™, level 2 active front end with a power factor correction topology is growing in popularity. Its capability to operate bi-directionally makes it particularly attractive.
The DC-DC conversion stage is shown in two systems: DC voltage to high frequency AC voltage on the isolation transformer's primary side, and high frequency AC to DC voltage rectification on the secondary side. The applicable topologies are commonly resonant, hard switching full bridge, phase shifted, ZVS, full bridge converters. Resonant LLC converter topology with a single bridge (1200 V SiC) or cascaded bridges (600 V) is widely used in this power conversion stage.

Simulation
Parametric Product Finders
Highlights
Podcast4Engineers: Fast EV charging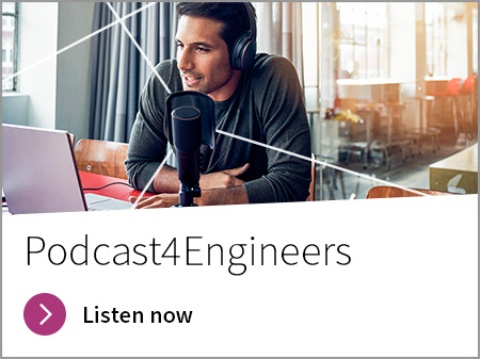 Today, a DC charger with 150 kW can put a 200 km charge on an EV in around just 15 minutes. As fast charging and battery technologies continue to evolve and improve in the near future, experts anticipate the charging time to drop even further. Listen to our Podcast4Engineers episodes as our Infineon experts discuss the latest trends and challenges in EV charging and how our one-stop product and design portfolio can help design energy-efficient DC EV chargers today.
Videos
Training
Webinars
This training covers Infineon's portfolio of power semiconductors, ranging from D2PAK packages to 62-millimeter modules.
All products are based on the latest micro-pattern trench technology.
As electro mobility increasingly becomes part of our daily lives, the need for more efficient charging solutions is growing. With an eye on the requirements and technological developments in this field, the challenge is to respond with smart and compact power conversion solutions for the charging networks of today and tomorrow. In this webinar, you will gain deeper insights, into Infineon's comprehensive DC-EV charging portfolio with a focus on silicon carbide and its important contribution to ultra-fast EV charging.
Electric vehicles are changing the demand for charging infrastructure. Driving forces are the desire for fast, large-scale, efficient electric charging, and the correlated technical support to design suitable stations. Infineon offers a one-stop-shop, covering power ranges from kilowatt to megawatt including power semiconductors, microcontrollers, gate drivers as well as security and safety authentication solutions.