IGBT7 and EC7 diode technology
Überblick
We could save up to 20% of energy or 17 million tons of CO2 if only half of all industrial drives had an electric speed control
The 7th generation of TRENCHSTOP™ IGBTs is especial designed for variable speed drives. Based on the micro-pattern trench technology, which offer a high level of controllability. These features bring significant loss reduction in the application, especially for industrial drives, which usually operate at moderate switching frequency.
Every switch needs a driver and the right driver makes a difference. To make the most out of the design with TRENCHSTOP™ IGBT7, we recommend using gate driver ICs that meet the IGBT7 as well as the industrial drives' requirements.
IGBT7 in industrial drives requires high output current gate drivers that need to have reinforced isolation (VDE 0884-11 certified). Infineon's EiceDRIVER™ isolated gate drivers within the X3 Compact, 2L-SRC, and X3 Enhanced families meet these requirements while providing their differentiated characteristics. The X3 Compact family provides an easy-to-design and cost-effective solution while the 2L-SRC family provides a high-performance option. The X3 Enhanced family consists of an analog version providing best-in-class DESAT accuracy and a digital version that offers I2C configurability that enables predictive maintenance.
IGBT7 and EC7 diode technology Unterkategorien
Highlights
650 V TRENCHSTOP™ IGBT7 T7 Discrete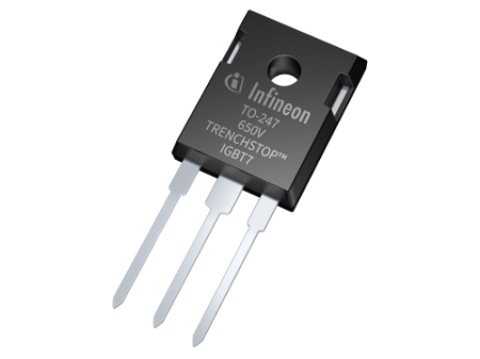 The switching frequency flexibility shown in table below is going from below 5 kHz up to 40 kHz, basically covers, the whole range of TRENCHSTOP™ (60T and 60DTP) or Highspeed family. It is a one to one alternative to predecessor generations with improved performance.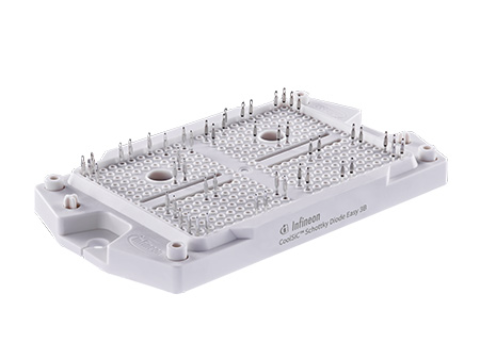 The Easy 3B package with TRENCHSTOP™ IGBT7 technology extends the broad Easy portfolio in industrial drives applications to higher current ratings; 50 A, 75 A and 100 A in PIM configuration and 100 A, 150 A and 200 A in sixpack configuration.
Thanks to the same height of 12 mm for the whole Easy family, it is perfectly suited for platform designs in industrial applications, such as servo drives, robotics and air-conditioning.
In addition to industrial drives, the EasyPACK™ 3B with 950 V Active Neutral Point-Clamping (ANPC) is a total solution for 1500 V solar inverters. For MPPT (Maximum Power Point Tracker), Infineon offers a single module solution in dual-boost topology with 3 MPPTs in one module. Each of the MPPT can handle up to 26 A current. This makes this solution ready for bi-facial solar panels.
For the inverter stage, Infineon offers two solutions: one with Si diodes and one with CoolSiC™ Schottky diodes. The EasyPACK™ 3B with TRENCHSTOP™ IGBT7 and CoolSiC™ Schottky diode can achieve up to 10% higher power density.
> For more product information, please check our Easy product page.
Easy Power Modules with TRENCHSTOP™ IGBT7
Our Easy 1B and Easy 2B family are fully equipped with the 1200 V TRENCHSTOP™ IGBT7 and Emitter Controlled Diode 7 technology. The portfolio offers current ratings from 10 A up to 100 A in PIM as well as sixpack configuration.
The chip is specially optimized for industrial drives applications, which means much lower static losses, higher power density and softer switching.
When exchanging the TRENCHSTOP™ IGBT4 with the IGBT7 solution, customers have three options to get the best out of their designs:
Power class jump: 30% more current with IGBT7 in the same housing and with the same system cooling
Frame size jump: 11% more output power plus system design reduction with IGBT7 and smaller housing
Heat sink reduction: 40% reduction in heatsink performance with the same output power
EconoDUAL™ 3 with TRENCHSTOP™ IGBT7
System simplification and reduced costs by highest power density and performance
The EconoDUAL™ 3 modules with the latest TRENCHSTOP™ IGBT7 chip generation extend the existing 1200 V IGBT4 portfolio with current ratings from 300 to 900 A . The FF750R12ME7_B11 and FF900R12ME7_B11 feature an improved housing for handling higher currents, and temperatures within the same footprint. FF300R12ME7_B11, FF450R12ME7_B11 and FF600R12ME7_B11 complete the portfolio towards lower current ratings.
In combination with the TRENCHSTOP™ IGBT7 technology, they show a significant reduction of losses, a high level of controllability and switching softness, as well as high short-circuit capability. Together with the maximum operation temperature of 175°C at overload, high efficiency and power density are achieved, enabling system simplification and cost reduction.
This might also interest you
Trainings
In this training we will present TRENCHSTOP™ IGBT7 by focusing on its key features and technical benefits. We will also see the existing and planned portfolio of IGBT7 for industrial drives applications.
Thanks to its superior controllability, humidity robustness and short-circuit ruggedness, Infineon's IGBT7 T7 delivers the highest electrical performance among short-circuit devices. Curious to know more? Watch this training.