Automotive instrument cluster
Overview
Rich visual user experience with the best cost-of-system ownership
Infineon's automotive instrument cluster solutions provide drivers with a centralized and easy-to-view display with all key driving information of the vehicle. Our instrument cluster dashboards can be securely updated and offer flexible customization. Benefit from our unparalleled portfolio for a scalable instrument cluster platform.
Products
Explore our block diagram below:
Infineon offers a complete and comprehensive system solution for Dot Matrix & Hybrid Instrument Cluster.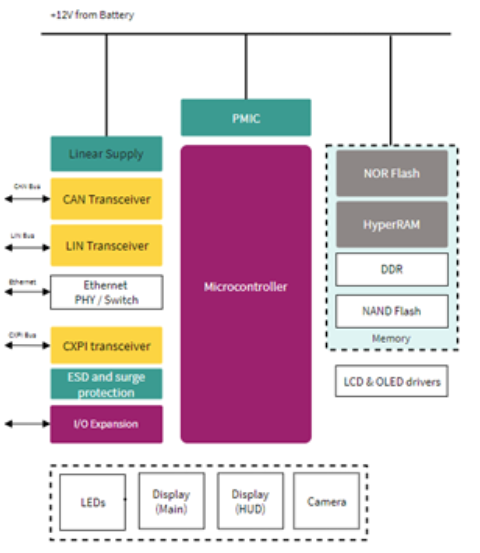 A digital virtual instrument cluster displays all driving information on the LCD or TFT screen. Such digital instrument clusters can be programmed to display the appropriate selection of virtual instruments according to the driver's preferences; Dot Matrix instrument clusters are rapidly being replaced by the digital virtual instrument cluster. With a feature-rich graphics engine and flexible memory interfaces, Traveo™ II graphic MCU can support entry digital virtual instrument cluster with high-resolution up to 1920 x 720. This Infineon single-MCU based instrument cluster solution provides a competitive system cost compared to the traditional solutions that use application processor and MCU.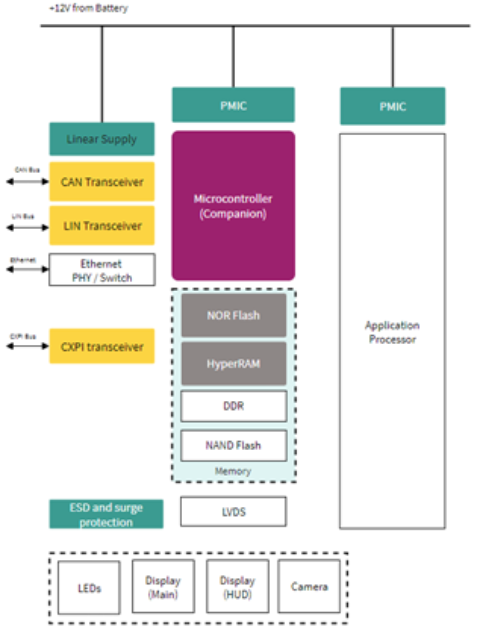 The premium virtual instrument clusters usually have a large display such as 12.3" with a resolution of 1920 x 1080. In this type of instrument cluster, a Vehicle-Interface-Processor (VIP) is needed to manage the automotive networks, safety, security, and power management, in addition to a dedicated graphic application processor. Infineon's Traveo™ II MCU product family provides a broad portfolio of low-power, high-performance MCUs with HSM security and safety. Combining the memories, network devices, and power management products, Infineon's solution enables a robust instrument cluster system.