VOLUMIO: Redefining the balance between quality and convenience in the way we listen to our favorite music empowered by MERUS™ Class D amplifier
For the past decade, our Associated Partner Volumio has been focusing on offering the best possible solution for a universal way to order, browse, search, and play music. Volumio was amongst the first companies to capitalize on the idea of focusing on quality streaming when they introduced the first version of the Volumio OS in 2014. The Volumio ecosystem caters to all needs of both expert users and easy listeners. Their focus is on excellent sound quality, ease of use, and compatibility with all music sources.
After the music streaming platform, Volumio introduced its first hardware product five years ago. 2022 marked the year of the complete Volumio lineup, the Primo entry-level streaming DAC (digital-to-analog converter), the Rivo audiophile streamer, and the Integro all-in-one streaming amplifier empowered by Infineon's MERUS™ Class D solutions.
Volumio's newest creation, the Volumio Integro, is a 'just plug in your speakers'-kind of product. It focuses on high-quality music and it's designed to fit the needs of a larger audience. To keep to the core values of quality, ease of use, and universal compatibility of Integro, Volumio partnered with Infineon.

The celebration of a like-minded partnership
Infineon's MERUS™ Class D amplifier solutions could be modified to make it the perfect amplifier for Volumio's latest product. Offering an integrated solution, the MERUS MA12070P enabled Volumio to use its compact design without compromising its idea of quality, accessibility, and compatibility for the Hi-Fi audiophile audience. On the one hand, it guaranteed the best possible sound quality; on the other, it allowed for the best flexibility for the in- and outputs.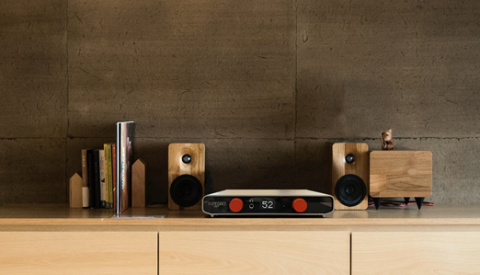 "We have chosen to design our Integro integrated streaming amplifier around the MERUS multilevel Class D audio technology because it offers the best synthesis of sound quality, efficiency, and power," said Michelangelo Guarise, Founder and CEO of Volumio. "Our customers just love that such a compact design can deliver a powerful and crisp musical presentation, and this has been possible thanks to the MERUS platform."
Infineon's MERUS™ amplifier solutions are designed to maximize power efficiency and dynamic range while providing best-in-class audio performance in small product form factors that make them an optimal fit for any audio application in both low (< 40 V) and high voltage (100-600 V) ranges. Apart from offering the shortest signal path, the MERUS™ amps can be used in Parallel Bridge Tied Load (PBTL) mode, doubling the voltage swing at the connected speakers in a Dual Mono configuration. One of the first to recognize the qualities and performance of the Volumio Integro was Czech specialist Hi-Fi magazine Audio & Video, awarding it the 'best product of 2022 – 2023'.
Learn more about the specifications of Volumio Integro, the integrated streaming amplifier.