Solid-State Circuit Breaker
Overview
Semiconductors that provide more than just protection
While relays are remote on/off switches, circuit breakers typically respond to overloads or short circuit in the load path to protect wires but also to keep hazards and damage away from people and equipment. The characteristics of semiconductors used in solid-state circuit breaker systems provide reasonable arguments for replacing electromechanical approaches. To name some of the advantages:
Fast trip switching
Adjustable/scalable trip characteristics
No arc/no tripping noise, no mechanical components, no arc chamber wear
Excellent detection, diagnostics, monitoring and predictive maintenance
Intelligent remote control and connectivity
Superior EMC performance
Longevity/highest reliability
System solutions from sensing, control, communication to next level of connectivity and security

Our system approach for solid-state circuit breakers ranges from power switches and corresponding gate drivers to sensors, microcontrollers, and memories, as well as to communication and safety devices. Our scalable offering can be adapted to individual system requirements in terms of the power to be interrupted, the tripping characteristics, and the embedding of the solid-state circuit breaker in a hybrid system. Power MOSFETs and IGBTs as discrete devices or in module packages give designers flexibility in their system architecture. Latest Silicon Carbide based solutions offer performance and cost optimized options. Matching isolated/non-isolated gate drivers complete our portfolio of power devices for solid state circuit breakers.

For remote control, diagnostics, monitoring and maintenance purposes, discover Infineon's 32-bit industrial microcontroller XMC™ family or AURIX™ family when functional safety aspects need to be considered. Take a look at Infineon's wide range of volatile and non-volatile memories, including types such as SRAM, SEMPERTM Secure NOR Flash, F-RAM or non-volatile SRAM to complement system microcontrollers.

For one of the best-embedded security products on the market, choose the OPTIGA™ Trust product family. And consider Infineon's USB or Wi-Fi controllers to meet the latest IoT networking needs. To minimize galvanic isolation efforts, circuit breakers communicate with all other systems compensation the control cabinet via our AIROCTM Bluetooth devices.
Training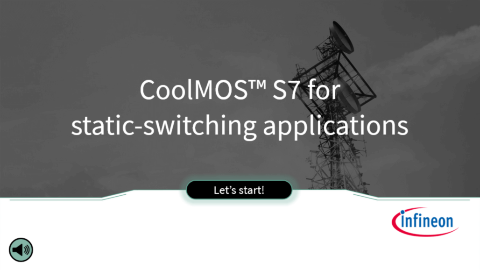 Discover the unparalleled price-performance of CoolMOS™ S7, fitting applications like active rectification, relays and circuit breakers.