LED lighting system design
Overview
Please choose a subcategory
Semiconductor solutions addressing applications in commercial, residential and automotive lighting

When sensors, networks, and software are connected or added to LED infrastructures, the resulting system enables services and benefits that exceed the value of lighting alone. The developments in the LED lighting industry affect efficiency, cost, demand, competition, and production. And smart lighting solutions allow for more control of lighting, resulting in more consumer options and higher-quality lighting designs. We are addressing applications in the commercial lighting, residential indoor and outdoor lighting and in the various automotive lighting applications.
Our range of products & solutions stretches from:
LED driver ICs that support a platform approach for LED drivers in commercial indoor & outdoor lighting
Comprehensive portfolio of high-voltage MOSFETs & low-voltage MOSFETs
Benchmark for linear- & switch-mode LED driver ICs for multi-string LED applications
Microcontrollers with dedicated peripherals for smart lighting system solutions, with high-efficiency power conversion, communication, and dimming technologies as well as easy-to-use, fully flexible color mixing functionality and wireless control
Sensor solutions for presence detection to generate additional energy savings
Products
Smart lighting control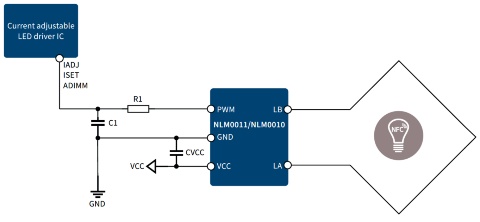 The growing demand for less energy consumption and more connectivity is shaping the field of lighting control. As a result, today's indoor and outdoor lighting control systems for commercial applications must be equally energy efficient and intelligent. By enabling enhanced lighting control capabilities it's possible to save manpower and prime the systems for the future of smart workplaces and smart cities.
Now that the members of MD SIG, the global lighting-industry consortium, have successfully standardized a digital, wireless programming approach using near-field communication (NFC). The NFC system uses a programming device, commonly known as an NFC reader, which wirelessly transfers the programming data to an NFC tag inside the LED driver.
Get to know the available boards, product suggestions drive your development to a smart solution. Learn more about Infineon's ICs for efficient LED wireless control designs.
LED power supply— the right products for your LED driver topology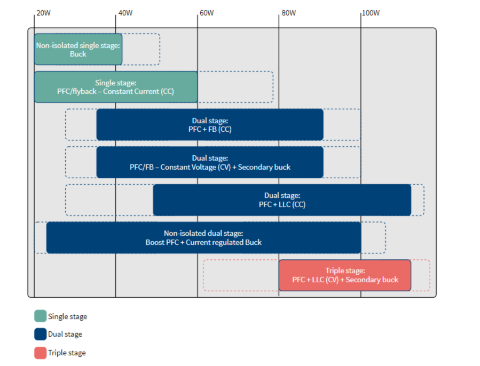 LED drivers are used to provide a constant current to LED light engines for several applications, such as commercial indoor lighting, street lighting and high bay lighting. For the power conversion in LED drivers, numerous topologies are deployed by different companies. For power ratings below 50 W, single-stage flyback topology including power factor correction is quite common. As the power rating increases, LED drivers with a dedicated stage for power factor correction and a dedicated stage for flyback or LLC become more common. Other common topologies include a single-stage flyback with a primary constant voltage and secondary buck with constant current output. Depending on the end applications, dual-stage non-isolated topologies, such as PFC and buck, are also used.
Our products for LED drivers range from analog LED driver ICs that are tailored for specific applications, to configurable digital ICs that can accelerate the time to market, and last but not least, to microcontrollers that offer the highest degree of flexibility. Learn more about LED drivers.
LED strips and signage with increased efficiency and reduces thermal overload on the LED board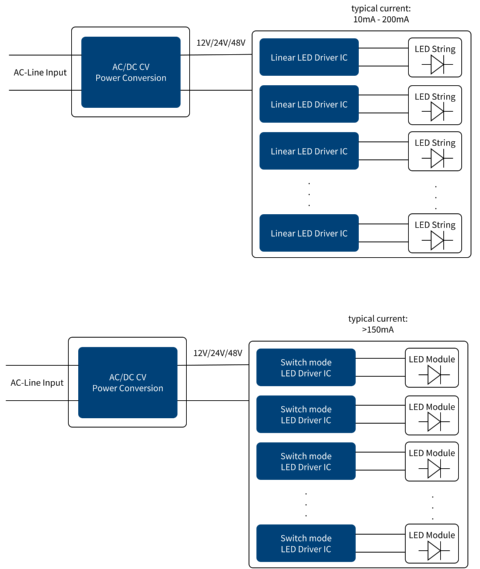 To design the best possible LED strip, Infineon offers LED driver ICs in two main product families: BCR and ILD.
The BCR series contain the smallest and most affordable products for linear LED driver ICs. The ILD series features DC-DC LED driver ICs that provide high efficiency as well as other interesting features, such as thermal protection. Both families come with a line-up of regulators with an integrated power stage and a line-up of controllers that allow the utmost scalability via flexible dimensioning of the output stage. Learn more about our ICs for efficient LED strip designs, and get to know the design resources you need to speed up time to market for your solution.
LED lighting in urban farming
Urban farms are an upcoming technology to solve future food insecurity caused by climate change leading to an increase in global temperatures and the frequency of extreme weather events. By moving agricultural operation indoors and exactly controlling the environment, reliable conditions for plant growth can be created. LED lighting is a central element of an indoor farm as it provides the required energy for plant growth.
In an indoor farm, plants are grown on several levels, each equipped with their own LED lighting infrastructure. Vertical indoor farms require precise control of lighting conditions to enable reliable energy proliferation to plants. Hereby controlling the emitted light spectrum is of great importance as the right mix is necessary to enable optimal growth conditions of plants. At the same time parts of the light spectrum that are not required by the plant for growth can be omitted leading to a reduction in power consumption, thus optimally balancing cost and plant requirements. The Infineon LED Lighting portfolio is the perfect fit for urban farming applications due to the great versatility and broad coverage of Infineon MosFET and driver IC technology and our integrated controllers for lighting applications. To find out more about urban farming visit our application page.