Uninterruptible Power Supply (UPS)
Overview
Uninterruptible Power Supplies (UPS) secure the power supply by converting the DC voltage from a battery or battery bank to an AC voltage.
Please choose a subcategory

They are used in many applications including industrial manufacturing processes, telecommunications, data centers, medical appliances and in small offices or home office environments, also known as S.O.H.O.
They typically include MOSFET based inverters that operate from 12 V or 24 V lead-acid batteries. Higher battery voltages are required to limit operating currents in higher power rated systems. 42 V and 72 V systems also exist for the same reason, however since these are somewhat less common, this reference design is based on a 12 V battery. Batteries may be external or internal to the UPS, car batteries are used externally and sealed lead-acid internally. UPS systems can be classified into three main categories: offline / standby UPS, line-interactive UPS, online / double-conversion UPS.
Products
Classification of UPS systems: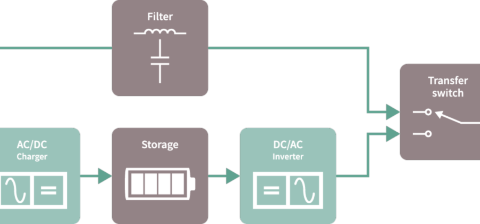 UPS systems can be classified into three main categories:
1. Offline/standby When AC-line voltage is present a relay bypasses the inverter, which remains off. The battery charger operates to maintain full charge. If the AC power fails the relay switches the UPS output over to the inverter, which starts up after a short interruption of 10 to 20 ms to supply back-up power.

3. On-line/double-conversion: The AC input is converted to DC at the battery charge level and then converted back to AC so that in the event of an AC-line failure the system will switch seamlessly to battery back-up and the output will continue to run without interruption. Such systems provide a stable and clean AC output under all conditions, but there is an inherent efficiency loss with stages of conversion. More sophisticated systems are able to mitigate this by partially bypassing the two conversion stages during AC-line operation so that only a small amount of power passes through them. If AC input fails, the inverter stage is able to take the full load without interruption of the output.
Offline UPS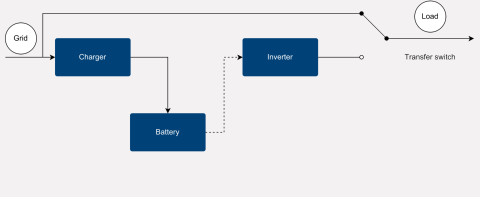 Offline (standby) UPS is mainly used for Small Office and Home Office, also called SOHO. Offline UPS is usually between 0 and 10 kVA. Mainly covered with discrete power semiconductor solutions, it is usually divided into low frequency and high-frequency transformer-based systems. It is used when AC line voltage is present a relay bypasses the inverter, which remains off. The battery charger operates to maintain full charge. If the AC power fails the relay switches, the UPS output over to the inverter, which starts up after a short interruption of 10-20 ms to supply backup power.
Online UPS

With increasing awareness and commitment towards reducing carbon emissions across the world, relatively brings more stringent compliance subsequently increasing the threat of higher energy costs are driving the market for higher-efficiency UPSs. There is also a market trend toward customers requiring smaller UPS units that provide the same level of protection. The trend is being driven by space being at a premium and by the cost of ownership. The smaller the UPS unit's footprint, the lighter in weight it becomes, the less it costs to operate and the more space is available to devote to the core business or process. Combining the strengths of the Easy power modules, that set a benchmark in low stray inductance, with the strength of Infineon's 1200 V CoolSiC™ MOSFET chip enables our customers to not only reduce system and operational cost significantly further helps to harness never before seen levels of efficiency and power density.
Technical trends:
Applications like server, data center, and industry automation demand double-conversion UPS topology. UPS systems deliver power to connected equipment in a two-stage process. First, they convert incoming AC power to DC power, and then they convert the DC power to conditioned AC power with a pure sine wave. During an outage, UPS systems convert stored DC battery power into AC power. In addition, they automatically bypass internal components and deliver power directly to connected equipment in the case of an internal fault or overload condition.
The DC-AC system converts DC to conditioned AC pure sine voltage. Either level 2 or level 3 NPC 1/ NPC 2 topology is preferred in this stage. In particular, level 3 NPC 1/ NPC 2 is widely used for its higher efficiency. Level 3 NPC 1 enables to use 600 V devices and best fit topology for more than 20 kHz switching frequency operation as well for high output voltage UPS model. Level 3 NPC 2 uses both 600 V and 1200 V device, the best fit topology for less than 20 kHz switching frequency operation as well for low output voltage UPS model.

Infineon 1200 V CoolSiC™ MOSFET technology opens up a new opportunity for inverter designers to stay at simple 2 level topology, to harness even more efficiency and power density than complex 3 level topology.
Learn more:
With the rapid growth of connected devices, smart industry, and the 'Internet of Things', both our personal and professional lives are only going to become increasingly interconnected and dependent on a robust, consistent power supply, so the demand for UPS protection is only likely to get bigger. Today's uninterruptible power supply (UPS) system demands for increased reliability and zero downtime has led to manufacturers designing more robust components for UPS systems. High-quality products from Infineon provide you with solutions targeting the entire power range of UPS applications. Equipped with our semiconductors, UPS systems can achieve the best-possible power conversion efficiency and cutting edge power density.
S.O.H.O UPS systems are mainly of the offline and online/line-interactive types. These can be broadly categorized into systems based on low-frequency iron lamination type transformers and high-frequency transformers based on ferrite cores. The most basic UPS types produce an unregulated 50-60 Hz square wave output. Sine wave output inverters are preferred, however, since they offer better power quality with regulated output voltage to avoid any potential stress that may occur with some types of appliance. Systems also exist that produce an approximate sine wave output with high distortion. The evaluation board discussed here is based on a low-frequency transformer and produces a low distortion sine wave output waveform.
The XMC™ microcontroller family based on ARM® Cortex®-M cores, is suitable for real-time critical applications where an industry-standard core is needed. It is dedicated to applications in the segments of power conversion, factory and building automation, and transportation, as well as home appliances. The XMC1000 series brings together the ARM® Cortex®-M0 core and market-proven and differentiating peripherals in a leading-edge 65 nm manufacturing process.
XMC13x option offers the functionality of the CCU8 timer/PWM module. It is necessary to provide the required gate drive signals. A clock speed of 32 MHz provides sufficient granularity of adjustment for the PWM outputs switching at 20 kHz. Since the MATH co-processor and BCCU LED lighting engine is not required for example in an offline UPS application, the XMC1301 is sufficient. For example, the 16-pin PG-TSSOP-16-8 packaged XMC1301-T016F0032 variant has 32 kB of Flash memory and 16 KB of SRAM and enough I/O pins to support the required offline UPS functions.
The firmware can be developed using the DAVETM IDE, which can be downloaded free of charge. Programming and debugging is carried out via the XMCTM Link isolated debug probe. Create your project within DAVETM IDE containing the device definition, settings and source files required to compile and build the executable code, which can be downloaded into the Flash program memory of the XMCTM controller. There are several programming/debugging protocols available.
Training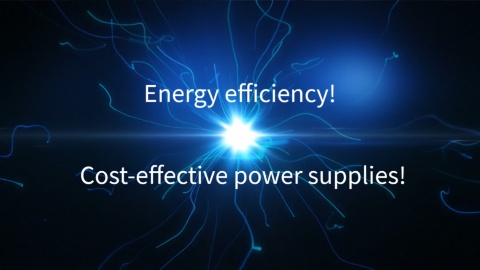 This e-learning is about Infineon's power solution positioning for uninterruptible power supply (UPS) applications. We will cover also different types of UPS and topologies commonly used.
Webinar
Learn what benefits silicon carbide offers for high-power converters like UPS systems. Detailed application examples will show you how CoolSiC™ can help your design become more efficient and compact and why these are key factors for successful UPS applications in the market.
The trend toward smart homes and connected systems demands a common communication interface between all home appliances and a PV inverter to enable a better balance between energy generation and consumption.
The main objective of this webinar is to explain the key technical features and system-level benefits of Infineon's semiconductor solution for string and hybrid inverter systems up to 30 kW output power.
Key Takeaways
1. Discover key technical features and system-level benefits of Infineon's semiconductor solution for string and hybrid inverter systems
2. Examine key drivers and technological requirements in the trend toward higher integration and fan-less operation
3. Explore the role of the PV inverter in the context of the smart home
Keywords: Silicon carbide, SiC, power density, bidirectional, power conversion, efficiency, energy, solar, storage, cost-effective, cost-effective power density, bidirectional power flow capability, high-efficiency power conversion