Solutions for photovoltaic energy systems
Overview
Please choose a subcategory
Leading products for end-to-end solar power solutions

Photovoltaic systems are one of the most demanded applications to address carbon reduction and increase the share of renewable energy in the grid. However, one of the biggest challenges facing the renewable sector is the need to balance supply and demand. The power supplied by photovoltaic (PV) modules fluctuates heavily depending on weather conditions. Nevertheless, the challenge of quitting fossil energy sources can be achieved with smart grid management and an energy storage system. PV panels supply power in the form of direct current (DC), which has to be converted to alternating current (AC) before it can be fed into the grid and consumed locally or transmitted to the point of use. Solar inverters convert DC to AC.
Efficient and reliable power semiconductors and inverter technologies are required to convert DC to AC and transmit the power with minimal losses. Combining solar systems with energy storage systems is one effective way of synchronizing supply and demand. Depending on their implementation, inverters fall into the categories micro inverter, power optimizer, string inverter, hybrid inverter, and central inverter. Our portfolio comprises a broad selection of components to build inverters ranging from just a few watts and kilowatts for residential use to several megawatts for the commercial and utility-scale markets. It includes best-in-class discrete OptiMOS™, CoolMOS™ and CoolSiC™ MOSFETs and IGBTs in various package options, be it best-in-class TO247 discrete switches or highly integrated Easy modules, functionally integrated EiceDRIVER™ gate driver ICs, XENSIVTM current sensors, XMC™, PSoCTM controllers and AIROCTM and OPTIGATM for secured connectivity. Backed by our end-to-end application expertise, we offer the best product combinations to achieve leading power density levels and best-in-class efficiency. Our wide portfolio ensures the perfect match for a wide range of solar applications, including residential, small and large commercial, and utility-scale deployments.
Learn more about PV inverter types in the interactive graphic below
Solar

Micro inverter

Micro inverters perform power conversion at each individual photovoltaic panel or multi-panel, usually these inverters are rated around 250 watt up to 1200 watt.

Solar

Power optimizer solutions

Power optimization is used to convert variable DC voltage from the Photovoltaic (PV) panel into a fixed DC voltage through a DC-DC Power Optimizer. This stage can also be called Maximum Power Point Tracking (MPPT).

Solar

String inverter

String inverters perform power conversion on series connected photovoltaic panels, usually these inverters are rated around few up to 350 kilowatt. They typically comes with MPP tracker (MPPT).

Solar

Central inverter

Central inverters perform power conversion on multiple strings of solar panels, connected together. They are rated around 600 kW up to 1250 kW. Central inverter typically relies on single stage power conversion.

Solar

Energy Storage System

Battery-based ESS technology can respond to power drop-outs in under a second, in particular it plays an essential role in making use of clean energy sourced from collocated solar or wind plants.
Products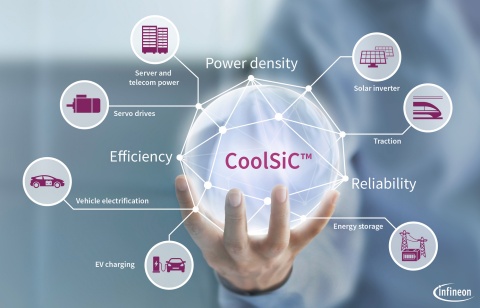 CoolSiC™ allows a power density increase by a factor of 2.5, e.g., from 50 kW (Si) to 125 kW (SiC) at a weight of less than 80 kg, so that two installers can lift it. With CoolSiC™ MOSFETs, the power of a string inverter can be doubled at the same inverter weight. Furthermore, the efficiency reduction at high operating temperatures is significantly lower compared to a Si solution. You can achieve maximum efficiency of over 99% by using CoolSiC™ MOSFET solutions from Infineon.
Highlights
Application presentation: Exploiting the unlimited potential of Solar energy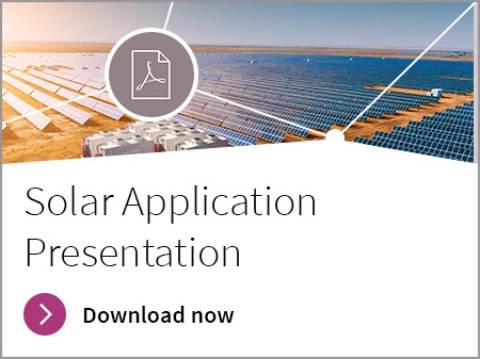 This presentation gives you an overview of topologies, technological trends, and requirements of solar applications. Find out more about our offering for each inverter type – from the microinverter to the central and string inverter. Check our recommendations for your application, and you get your customized module in a five-month timeframe.
Whitepaper: Silicon carbide MOSFETs for next-level power density in solar and energy storage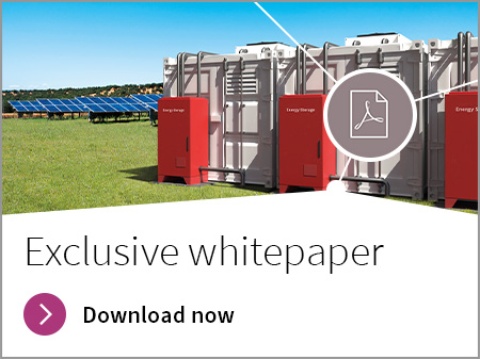 The latest generation silicon carbide semiconductors and CoolSiC™ MOSFETs enable a significant increase in power conversion efficiency in solar power generation systems and associated energy storage. Read more about these applications and how lower loss not only saves energy, but also results in smaller and lighter equipment with lower capital, installation, and maintenance costs.
Podcast4Engineers: Solar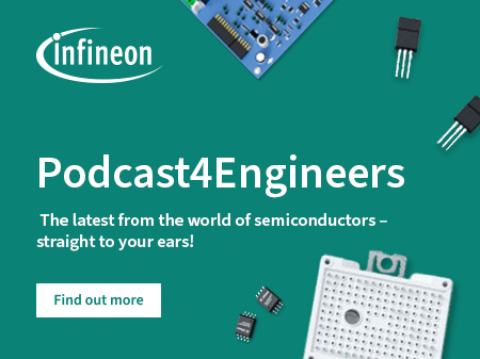 Photovoltaic systems – commonly known as solar power – are driving the shift from fossil fuels and bringing us closer to having abundant, green energy. Innovative and reliable power semiconductors and inverter technologies ensure that harnessing solar power is more convenient, efficient, and attractive.
Training
Let's learn more about how solar inverters work, from the ones we have in our houses, to the ones that are applied in major factories. We will also see how Infineon innovates in power semiconductors for solar inverter technology and how that can help with reducing costs and time to market.
Webinars
The trend toward smart homes and connected systems demands a common communication interface between all home appliances and a PV inverter to enable a better balance between energy generation and consumption.
The main objective of this webinar is to explain the key technical features and system-level benefits of Infineon's semiconductor solution for string and hybrid inverter systems up to 30 kW output power.
Key Takeaways
1. Discover key technical features and system-level benefits of Infineon's semiconductor solution for string and hybrid inverter systems
2. Examine key drivers and technological requirements in the trend toward higher integration and fan-less operation
3. Explore the role of the PV inverter in the context of the smart home
Keywords: Silicon carbide, SiC, power density, bidirectional, power conversion, efficiency, energy, solar, storage, cost-effective, cost-effective power density, bidirectional power flow capability, high-efficiency power conversion
Join the webinar to learn about the positioning of SiC for in solar and energy storage applications. We will talk about the benefits of using Infineon's Silicon Carbide MOSFET for solar and energy storage power conversion supported by real application examples.
In joining the webinar you will get a better understanding of the main technology trends in solar inverters.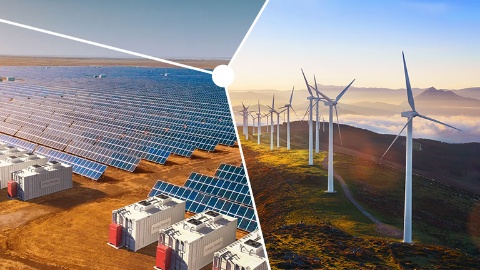 Key takeaways:
Learn about the application and power semiconductor requirements for solar, wind and energy storage systems
Understand how Infineon responds to the trends in the market of renewable energies and storage systems, e.g. inverter integration with CoolSiC™ MOSFETs
Get an overview of different solution offerings for solar, wind and energy storage systems