20V-40V N-Channel Automotive MOSFET
Overview
Infineon offers a wide range of 20V-40V N-channel automotive qualified power MOSFETs using the new OptiMOS™ technology in a variety of packages to meet a range of needs and achieving RDS(on) down to 0.6mΩ.
The new OptiMOS™ 6 and Optimos™5 40V benchmark MOSFET technology enables low conduction losses (best in Class RDSon performance), low switching losses (improved switching behavior), improved diode recovery and EMC behavior. This MOSFET technology is used in the most advanced and innovative packages in order to reach the best product performances and quality.
For ultimate design flexibility, our automotive-qualified MOSFETs are available in a variety of packages to meet a range of needs. TO-Leadless (TOLL), Single and Dual SSO8 (5mm x 6mm), S308 (3mm x 3mm), D2PAK and DPAK are just some examples. Going forward, at Infineon we are committed to maintaining our innovation leadership in automotive MOSFETs. Our mission: offer our customers a steady stream of improvements in current capability, switching behavior, reliability, package size and overall quality. Checkout our newly released products in TOLG (HSOG-8), the new power package sTOLL (HSOF-5) and our brand new integrated Half-Bridge in the 5mm x 6mm package.
Our newly developed integrated half-bridge is an innovative and cost efficient package solution for motor drive and body applications. The SSO8 half-bridge devices enable smart routing for bridge applications resulting in a reduced PCB area and offer a three times higher current rating than our dual SSO8 products.
The dual SSO8 5x6 mm2 package is perfectly suitable for single loads. For bridge applications the routing with a dual MOSFET is complicated and requires a large PCB area. Additionally, current rating in the dual SSO8 packages are limited to 20A.
Using the integrated half-bridge, the PCB area is sizably reduced, as it provides enhanced routing for bridge applications. The newly designed half-bridge is based on the optimized OptiMOS™6 technology. The portfolio provides a wide RDS(ON) range from 3.0 mΩ to 7.0 mΩ and increased datasheet current rating of 60A.
Potential applications: Motor control, window lift, BCM (Body Control Module), Parking brake, Seat control module
Product key features:
Integrated half bridge SSO8 (5x6)
5x6 mm2 reduced footprint & optimized layout for B6 apps
Latest OptiMOS™6 40V optimized for switching & power losses
Package JEDEC listed
Cost efficiency for low & mid power drive apps
Cu-clip soldered
Enhanced routing for bridge applications results in sizably PCB area
RDS(ON) range 3.0 mΩ to 7.0 mΩ
Increased datasheet current rating of 60A
| | | | | |
| --- | --- | --- | --- | --- |
| Product | max RDS(on) [mΩ] | ID [A] | Qg (typ) [nC] | LL/NL |
| | 3.0 | 60 | 27 | LL |
| | 3.1 | 60 | 24 | NL |
| | 4.5 | 60 | 15 | LL |
| | 5.0 | 60 | 12.5 | NL |
| | 6.3 | 45 | 10 | LL |
| | 7.0 | 45 | 8.9 | NL |
Highlights
Infineon introduces its latest OptiMOS™-6 40 V power MOS technology in the 5 x 6 mm2 SS08 leadless package with highest quality level and robustness for automotive applications. All of this enables the best-in-class product FOM (RDS(on) x Qg) and performance on the market. The new SS08 product offers 120 A continuous current ratings, which is 20 percent higher than the standard DPAK at almost half of its footprint area. The footprint area of SS08 is 35 mm2 and of the DPAK is 65 mm2 . Additionally, the new generation of the SS08 package enables superior switching performance and EMI behavior due to very low package inductance (≈ 4x lower package inductivity vs traditional packages e.g. DPAK, D2 PAK) by using the new copper-clip intercontact technology.
Read more on the OptiMOS™-6 technology in the product brief.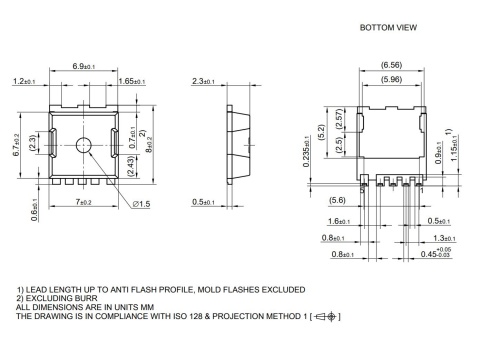 Infineon introduces sTOLL as its latest high power leadless package in 7x8 mm² with OptiMOS-5™ 40 V and OptiMOS-6™ 40 V for future automotive applications (JEDEC name is MO-319 and IEC name is HSOF-5).
sTOLL offers high current capability of 250 A, more than standard D²PAK (180A), at a footprint of 56 mm² which is even smaller than DPAK (65 mm²). In combination with Infineon's leading OptiMOS-5™ 40 V and OptiMOS-6™ 40 V power MOS technology, sTOLL offers best in class power density and power efficiency at Infineon's well known quality level for robust automotive packages.
With sTOLL 7x8 mm² as new package family Infineon challenges the traditional SMD packages like D²PAK (TO263) and DPAK (TO252) providing higher current capability in smaller form factor of 7x8 mm² without sacrificing thermal performance. Further sTOLL as leadless package minimizes stray inductances, package resistance and improves switching behavior over traditional packages DPAK/D²PAK significantly.
Infineon first sTOLL package family will be with OptiMOS-5™ 40 V and OptiMOS-6™ 40 V technology for all future 12 V high current automotive applications, especially EPS, DC/DC and BLDC in CO2 friendly vehicles. In a second step sTOLL package will be extended to higher voltage classes like 80 V and 100 V.