Intelligent Power Modules (IPM)
Overview
CIPOS™ Intelligent Power Modules in different packages, voltage and current classes.
We offer a variety of IPMs, with different semiconductors in different packages and different voltage and current classes. These IPMs are separated into Compact, Standard and Performance families. Part of the IPMs is divided into the CIPOS™ Nano, CIPOS ™ Micro, CIPOS™ Tiny, CIPOS ™ Mini and CIPOS™ Maxi families. These energy-efficient intelligent power module IGBTs integrate the latest power semiconductor and ICs technology.
Our advanced IGBTs, MOSFETs, next-generation Gate Driver ICs and state-of-the-art thermo-mechanical technology are used for the intelligent power modules. The modules improve system performance and energy efficiency by delivering increased power density, enhanced system ruggedness and reliability.
Select one of our CIPOS™ families and get more information
Infineon Developer Community is available 24x7 for you to connect and network with engineers across the globe. Get help from Infineon support engineers, and expert members to solve your design challenges anytime, from anywhere, in any topic, and in your preferred language.
Highlights
The CIPOS™ IPMs are families of highly integrated, compact power modules designed to drive motors in applications ranging from home appliances, fans, pumps to general purpose drives.
A broad selection of modules is offered to enable optimum PCB design, size and system costs. This simplifies the motor drive design, improves reliabilities and lowers component counts while significantly reducing time to market.
Do you have a question about Intelligent Power Modules? Would you like to discuss with our technical experts? Join the IPM web forum!
Whitepaper: Power device choices in the new small home appliance market
Energy efficient, modern-looking, wipe clean and hermetically sealed surfaces are only a few characteristics that a design engineer has to fit into one small home appliance. Infineon offers solutions for the two key areas – induction heating with IPD Protect, a RC-H5 IGBT copacked with a protection gate driver, and motor control solutions using our energy-efficient, integrated power devices CIPOS™ Intelligent Power Modules and iMOTION™ Integrated Design Platform.
Dive deeper and discover more about the changing landscape of the SHA market and enablement of electronic solutions in this free whitepaper!
Training
Getting started with IPM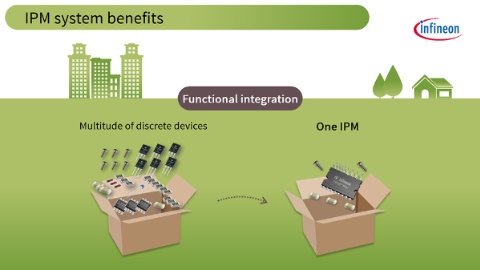 What are inverterized motor control and IPMs? How to implement energy-efficient motor drive solutions with IPMs? Do you want to get familiar with Infineon's IPM portfolio that allows you to choose the best IPM for your application? Enable yourself to start designing a motor drive.