Overview
EconoDUAL™ 3 product family for medium power applications
With the EconoDUAL™ 3 products, Infineon supports the complete current ranges from 100 A up to 900 A at 600 V / 650 V / 1200 V and 1700 V. Excellent mechanical robustness, high power cycling capability, the option of PressFIT pins, and the availability of TIM makes it a reliable, cost effective solution. It is widely used in many different applications, such as general purpose drives, electric and hybrid vehicles, wind, solar, traction, CAV, UPS as well as transmission & distribution.
EconoDUAL™ 3 modules are equipped with the state-of-the-art TRENCHSTOP™ IGBT7 or IGBT4 technologies for highest power density and leading-edge power cycling capability. The symmetrical design of the modules enables optimized current sharing between the IGBT half bridges in parallel operation.
EconoDUAL™ 3 modules are available in various topologies, and with integrated additional functionality, such as shunt resistors, for efficient inverter designs.
Highlights
Key Features
Main Applications

1200 and 1700 V TRENCHSTOP™ IGBT7 chip technology
Highest power density
Best-in-class VCE sat
Tvj op = 175°C overload
Improved terminals
PressFIT control pins and screw power terminals
Integrated NTC temperature sensor
Isolated baseplate
Compact and robust design with molded terminals
Parallel operation enabled by symmetrical design
In this paper all technical aspects of the EconoDUAL™ 3 with TRENCHSTOP™ IGBT7 will be discussed including switching characteristics and improved housing.
Find out how to avoid paralleling of IGBT modules with the EconoDUAL™ 3 900 A, 1200 V device.
In general, chip shrinkage leads to an increased thermal impedance, which then impacts the application performance. Based on the 1200 V, 600 A EconoDUAL™ 3 module, this publication discusses how chip shrinkage can be compensated by module layout and chip performance.
Read about both the theoretical background and the thermal simulations of the module layout.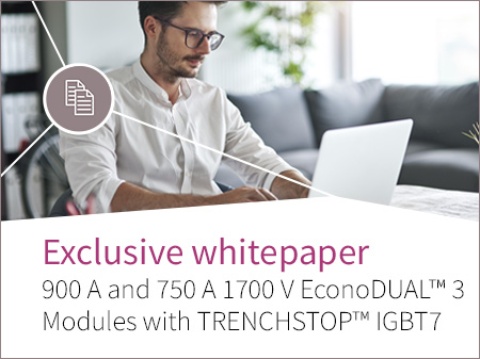 When it comes to new IGBT chip generation not only power density, robustness, and performance are of importance. But the IGBT modules should feature an easy design-in, a good performance, and there should be a scalable inverter portfolio.
Download this whitepaper, where the TRENCHSTOP™ IGBT7 1700 V lead types are compared with the IGBT4 generation in terms of electric and thermal behavior.
EconoDUAL™ 3 Wave
CO2 reduction targets make the electrification of large vehicles inevitable, but the repetitive start-stop cycles and the long operation hours put a high demand on power module lifetime.
The Wave power modules come in the standard EconoDUAL™ 3 housing, but feature additional ribbon bonds on the backside for an advanced cooling concept with direct liquid cooling. The ribbon bond solution reduces overall temperatures and ripple in etrucks, ebusses, drives or wind applications.
Key Features
Main Applications

Ribbon-bond structure on the baseplate for direct liquid-cooled heat sink
Compact and robust design with molded terminals
25 K lower temperature
Up to 6 times longer lifetime due to better cooling or improved output current by up to 30% at same lifetime
Simplified inverter production induced by no thermal grease application
Electrified drive trains in heavy-duty vehicles pose a challenge for semiconductors in a multitude of ways. One key element includes the highly repetitive load cycles that define demanding lifetime requirements for power modules.
Download this whitepaper to find out more about the upgraded EconoDUAL™3 package with a ribbon-bond structure
EconoDUAL™ 3 with Shunts
Reduced system costs by higher integration
EconoDUAL™ 3 modules are also available with integrated shunt resistors for current monitoring in the AC path. The integration of additional functionality into the IGBT module is a very effective way to optimize the overall system costs of an inverter.
External current sensors are no longer needed. This saves space in the system, reduces material costs and lowers manufacturing efforts.
Key Features

Main Application

1200 V state of the art IGBT4 technology
Integrated shunts resistors for direct current measurement
High current measurement accuracy across a wide temperature range
Optimized heat spread guarantees effective thermal management
PressFIT control pins and screw power terminals
TIM – pre-applied thermal interface material to achieve longest lifetime
Compact and robust design with molded terminals
This might also interest you