Overview
Charging options that meet your requirements:
USB-C chargers and adapters
Infineon provides a comprehensive portfolio of semiconductors and reference designs for USB-PD charging, ranging from silicon and GaN switches to Power and USB-C controllers. Applications for USB-PD include smartphone and tablet chargers, laptop adapters as well as other chargers or adapters for portable electronic devices.
Wireless charging
Choose from a broad offering of semiconductors enabling safe and efficient wireless charging using inductive or resonant charging technologies. Our solutions support applications ranging from a few watts to multiple kilowatts.
Automotive USB-C charging
Efficient and reliable automotive power delivery (PD) modules for head units and rear-seats and inductive wireless charging solutions for in-cabin smartphone chargers.
Battery chargers
Design lithium-ion battery chargers with Infineon's leading portfolio of high-voltage (CoolMOS™) and low-and medium-voltage (OptiMOS™) switches as well as power controllers. Our solutions enable different topologies and power classes up to 300 W.
USB power delivery (USD-PD) is a universal standard to charge or supply any device with a USB-C port, including those with higher power ratings, such as hard drives, printers, laptops, and smartphones with a large battery capacity. USB-PD chargers and adapters can be used to power such a wide variety of devices as they supply the requested amount of power needed. The power source and sink communicate through the USB-PD protocol and the sink defines how much power is required. The charging voltage and current are adjusted accordingly by the power source, the USB-PD charger or power adapter.
Infineon's innovative CoolGaN™ technology sets a new standard for power transistors. CoolGaN™ products feature gallium nitride (GaN) transistors instead of silicon. Their higher critical electrical fields enable outstanding specific dynamic on-state resistance and smaller capacitances compared to silicon MOSFETs, which makes GaN HEMTs great for high speed switching applications. Gallium nitride transistors can be operated with reduced dead-times which results in higher efficiency and better thermals. Operation at high switching frequencies allows the volume of passive components to shrink which improves overall power density. GaN enables for smaller and lighter chargers and adapters.
Products
Click through the simplified mobile charger/adapter schematic and find the matching products to your design requirements:
Highlights

Infineon Developer Community is available 24x7 for you to connect and network with engineers across the globe. Get help from Infineon support engineers, and expert members to solve your design challenges anytime, from anywhere, in any topic, and in your preferred language.
Training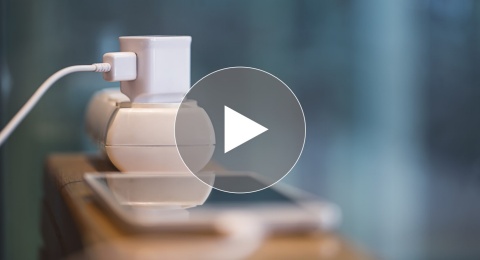 Key takeaways:
Understand the difference between a charger and an adapter
Get to know the charger and adapter market trends and the technical needs which come along
Receive an overview of the wired and wireless solutions Infineon offers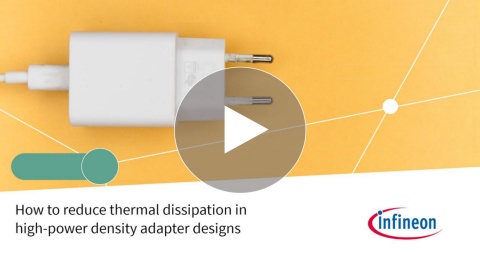 Key takeaways:
Introduction to power adapters and its system requirement
Know the design flow for power adapters
Know how to select and verify the components from thermal point of view