LED lighting system designs
Overview
Please choose a subcategory
Semiconductor solutions addressing applications in commercial, residential and automotive lighting

When sensors, networks, and software are connected or added to LED infrastructures, the resulting system enables services and benefits that exceed the value of lighting alone. The developments in the LED lighting industry affect efficiency, cost, demand, competition, and production. And smart lighting solutions allow for more control of lighting, resulting in more consumer options and higher-quality lighting designs. We are addressing applications in the commercial lighting, residential indoor and outdoor lighting and in the various automotive lighting applications.
Our range of products & solutions stretches from:
LED driver ICs that support a platform approach for LED drivers in commercial indoor & outdoor lighting
Comprehensive portfolio of high-voltage MOSFETs & low-voltage MOSFETs
Benchmark for linear- & switch-mode LED driver ICs for multi-string LED applications
Microcontrollers with dedicated peripherals for smart lighting system solutions, with high-efficiency power conversion, communication, and dimming technologies as well as easy-to-use, fully flexible color mixing functionality and wireless control
Sensor solutions for presence detection to generate additional energy savings
Highlights
LED lighting portfolio overview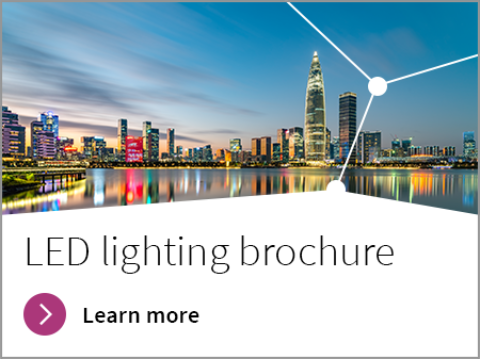 Here at Infineon Technologies, we are passionate about developing these exciting solutions for LED lighting design challenges.
This brochure covers our latest recommended products and schematics for LED drivers, LED strips and signage, and radar sensors for smart lighting.
Download now our Infineon LED lighting brochure