Overview
Enabled by Infineon's high-efficient power switches, secured connectivity and touch sensor technology for best cooking experience
The huge global market for microwaves is characterized by great competition and price pressure. Along with this, manufacturers must meet rising consumer expectations and produce more reliable, energy-efficient appliances that also offer more and more functions. Benefits such as faster cooking, advanced cooking functions, and easy cleaning and safety features play a crucial role. In addition, manufacturers are under enormous pressure to bring innovative new products to market as quickly as possible and at an attractive price/performance ratio. This is why inverter-operated microwaves in particular are enjoying great popularity. They combine high efficiency and increased power control with a favorable price. Inverterization helps reduce the stress of constantly switching the magnetron on and off, ensuring a long service life.
By choosing Infineon components, you can easily set your designs apart from the competition. We offer a comprehensive portfolio for inverterized microwaves, that makes it easy for you to meet all consumer needs. You can aim for the best price/performance ratio with discrete components, our IGBTs, gate drivers, and microcontrollers are designed to work together seamlessly. This allows you to design robust and reliable systems that consume less power and feature a modern touch user interface. For the auxiliary power supply, the CoolSET™ rounds up our power portfolio by offering increased robustness and performance.
Infineon's Discrete RC-H IGBTs products designed for inverterized microwave ovens, in combination with PSoC® 6 / XMC™ microcontrollers for system control, AIROC™ Wi-Fi & Combos products, and XENSIV™ sensors enable highly compact, robust, and reliable systems that consume less power and offer a rich user interface.
Products
Click on our interactive block diagram to find the right products:
Infineon combines the industry-leading performance of the TRENCHSTOP™ family with the innovative reverse conducting IGBT technology to create a new generation of best-in-class devices. With a monolithically integrated diode, the RC-H IGBTs are perfectly suited for soft switching application as inverterized microwave ovens.
Overcome ground-shift challenges in your design with Infineon's single-channel, non-isolated EiceDRIVER™ gate driver ICs, 1EDNx550x, that feature true differential inputs and guarantee high immunity against negative voltage undershoots and low dissipation. The 1EDNx550x gate driver ICs have true differential inputs. Their control signal inputs are largely independent of ground potential. Or use Infineon's 1ED4417x EiceDRIVER™ 25-V single-channel low-side, non-isolated gate drivers with integrated over-current protection (OCP), fault reporting, and enable functionality in a 6-pin PG-SOT23 package. The 1ED4417x family realizes best-in-class and fast fault reporting accuracy with OCP threshold tolerance of +/-5%.
PSoC® 6 microcontrollers (MCUs) bridge the gap between expensive, power-hungry application processors and low-power microcontrollers. The ultra-low-power PSoC® 6 MCU features an Arm® Cortex® M4 for high-performance AI/ML tasks such as _FP match algorithm, TFT LCD driver, voice recognition and motor control, and an Arm® Cortex® M0+ for low power tasks System control, BLE, and Caps. With built-in security, your IoT system is protected. The built-in Capsense technology allows you to easily implement robust touch control of buttons or displays.
Our AIROC™ Wi-Fi & Combos combos integrate IEEE 802.11a/b/g/n/ac WLAN and Bluetooth in a single-chip solution to enable small-form-factor IoT designs. Combo solutions are available for both 1x1 SISO with up to 433 Mbps PHY data rates and 2x2 MIMO with up to 867 Mbps PHY data rates. These solutions can be coupled with external MCUs from popular vendors or Linux on applications processors to implement a complete Wi-Fi + Bluetooth system.
Responding to a growing focus on embedded systems amongst attackers, Infineon offers OPTIGA™ Trust hardware security solutions based on a high-end security controller optimized for connected devices. It provides extremely flexible, high-performance, secured access to any major cloud provider.
Predictive maintenance enables a data-driven approach to predict and prevent device failures based on pattern recognition and intelligent software models. To collect the necessary data and enable monitoring of the condition of devices in a building, smart XENSIV™ sensors help to record the most crucial parameters of a device's status.
Infineon's latest generation of fixed frequency CoolSET™ AC-DC integrated power stages with quasi-resonant switching scheme offers increased robustness and excellent performance. Infineon's fixed frequency CoolSET™ offers higher efficiency and lower switching frequency at medium and light loads, enabled by an integrated frequency step-down.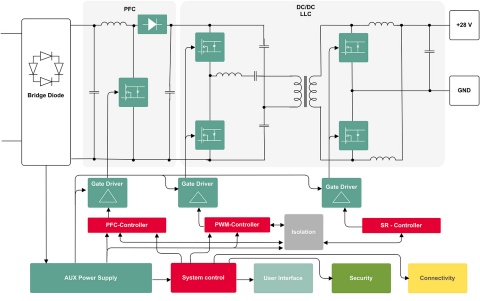 The latest solid-state RF-powered microwave oven solution from Infineon helps consumers achieve a better cooking experience. It offers precise cooking, improved food quality, greater consistency, selective heating, and versatile and complex cooking combinations. These microwave ovens also enjoy a significantly longer product lifetime. In line with the latest home appliance trends, the solution offers a reliable Wi-Fi interface with a high degree of sensitivity, strong signal, and interference immunity, enabling users to enjoy the cooking experience and share it in the cloud.
Infineon's latest OptiMOS™ 5 technology together with the 600 V CoolMOS™ P7 enables you to use one or several 250 W units to build a microwave oven with the desired power level. RF power transistors and architectures provide a full range of power control, phase shifting, and frequency adjustments, allowing microwave ovens to cook complex combinations. Also, 30 V operational voltage improves safety and replaces the magnetron's 4 kV power supply.
Infineon's CoolSiC™ 650 V Schottky diodes offer the best price/performance ratio and customer value on the market. They are based on advanced silicon carbide production equipment, a solid track record, the highest quality, and a very granular and complete combined G5/G6 portfolio. With more compact packages and thin wafer technology, they complement our 650 V CoolMOS™ super junction MOSFET families and meet the application requirements of 650 V solutions. The CoolSiC™ Schottky diodes convince with better efficiency compared to silicon diode alternatives.
Videos
Training
This training introduces RC-H6 650 V Reverse Conducting IGBT technology for half-bridge induction cooking.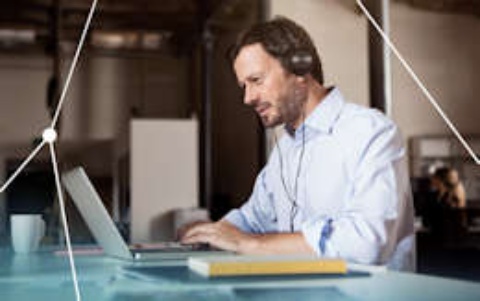 In this training, you will get to know more about the system trends and the components that Infineon offers as solutions for your home appliances.
In this training, you can see the most relevant Infineon products that the customer can choose to build up countertop appliances.