(H)EV traction inverter - hybrid / electric vehicle
Overview
Fully automotive-qualified and highly efficient product portfolio supporting a wide range of motors, generators and power classes
Within an electric drivetrain, the inverter controls the electric motor. This is a key component in the car as, similar to the Engine Management System (EMS) of combustion vehicles, it determines driving behavior. Regardless of whether the motor is synchronous, asynchronous or brushless DC, the inverter always functions in a similar way and is controlled by an integrated PCB, which should be designed to minimize switching losses and maximize thermal efficiency. Not only does the inverter drive the electric motor, it also captures energy released through regenerative breaking and feeds this back to the battery. As a result, the range of the vehicle is directly related to the efficiency of the traction inverter.
Products
(H)EV - traction inverter system diagram
System benefits
Fully automotive-qualified product portfolio supporting wide range of motors, generators and power classes
Highly efficient 3-phase drive thanks to very low conducting losses even at high switching frequencies
Isolation-integrated in gate driver
Wide range of 16 and 32-bit microcontroller solutions dedicated to (H)EV

applications with a highly cost-effective resolver interface

Evaluation kit available to reduce system on development time
SiC-based power electronics for xEV main inverter is accelerating, this is especially true in premium car segmentation where high efficiency is the key. 1200 V CoolSiC™ MOSFETs implemented in the electric drive train enabling a system size reduction by up to 80% thanks to the higher power density, less cooling effort, and lower number of passive components.
Although Silicon-based solutions will remain mainstream in the market for the next few years, SiC gains momentum. A recent WLTP study shows in an 800 V battery system, SiC-based main inverter can achieve 5 – 10% more range vs. its Silicon counterpart. In addition, SiC shows lower conduction losses in light load conditions compared to Si IGBTs. More and more OEMs adopt a SiC/Si co-existing topology where, for example, SiC is applied in the main inverter with rear-wheel drive and Silicon in secondary inverter with front-wheel drive, eventually achieving a good balance between efficiency & cost.
Learn more about our products:
Datalogging in Inverters:

Log sensor data
Log diagnostic and fault codes
Data collection for fault analysis and predictive maintenance
F-RAM for Automotive markets provides fast writes at full interface speed. F-RAM does not have any write delays and data is instantly nonvolatile. Traditional nonvolatile memories have delays of 5 or more milliseconds before data becomes nonvolatile. If power is disrupted, pending data is lost unless the system has extra capacitance or batteries to keep the system on until data is stored.
F-RAM offers virtually unlimited endurance of 100 trillion read/write cycles. Traditional nonvolatile memories typically have less than 1 million cycle endurance, forcing system designers to use complex wear-leveling routines and up to 4x more density to prolong the lifetime of these memories.
This reference kit provides users the ease of development for 48V inverter control targeted for electric scooters and motorcycle traction motors. This kit is designed to drive a Permanent Magnet Synchronous Motor (PMSM) and Brushless DC Motor (BLDC). Its excellent thermal performance is supported by topside-cooled 80 V MOSFET coming in the TOLT package with Infineon's leading OptiMOS™-5 technology. Motor control software using AURIX™ 32-bit microcontroller is currently in development. This new reference kit is the ideal solution for rapid prototyping while minimizing R&D efforts and time to market.
Highlights
Download our free whitepaper: Traction inverters are a key application for electrified vehicle designs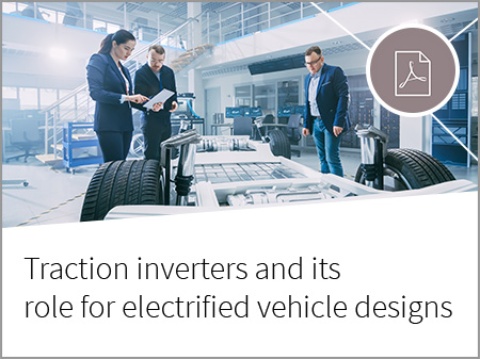 In this technical white paper, we will look at the role of traction inverters and how they are evolving within the changing landscape of electric vehicles. We will also consider new semiconductor technologies that are driving advanced development and many of the challenges that need to be considered when designing traction inverters.

Download now