ToF 3D image sensors for automotive
Overview
REAL3™ ToF sensors in cars bring added comfort and safety to automotive applications
Our REAL3™ automotive imager based on 3D time-of-flight (ToF) technology brings the most accurate and robust depth sensing capabilities to a wide range of automotive use cases both within and beyond the vehicle. As cars evolve to support a greater degree of automated driving and more intuitive ways for the driver and passengers to interact with the vehicle (HMI), designers are increasingly focusing on freedom, flexibility, comfort and – most importantly – safety.
Our REAL3™ 3D in-cabin sensing cameras capture and process the data needed to ensure a high standard of passive safety through use cases like driver monitoring, occupant detection and smart airbag systems offering an imager developed according ISO26262 ASIL-B standard. The 3D depth data also supports best anti-spoofing capabilities for secure face authentication in order to enable in-car payment or access to private data and cloud services, or even to open the car by face-ID. ToF cameras also support exterior sensing functions such as secure navigation and collision avoidance. In addition, comfort features such as gesture control and fully autonomous parking pave the way for maximum driver convenience. Here, high-resolution ToF cameras use 3D sensing to scan the area round the car down to the ground to detect curbs, walls or other obstacles – regardless of how bright or dark it is.
Products
Product
Product
Status
Package
System Resolution
Pixel
Wavelength
Tamb
Qualification/
Standard
IRS1125A
volume
production
PG-LFBGA-84
100 kpxl (CIF)
352 x 288
850 nm
(940 nm)
-40°C -
105°C
AEC-Q100, grade 2
IRS2877A
volume
production
PG-LFBGA-65
307 kpxl (VGA)
640 x 240

940nm
(850nm)

-40°C -
105°C
AEC-Q100, grade 2
IRS2877AS
coming soon
PG-LFBGA-65
307 kpxl (VGA)
640 x 240

940nm
(850nm)

-40°C -
105°C

AEC-Q100, grade 2/
ISO26262 (ASIL-B)
The REAL3™ product portfolio also comprises dedicated bare die imagers for consumer applications.
Applications
As automated driving capabilities evolve, drivers are increasingly being relieved of regular driving tasks and almost become "passengers". This means cars are being turned into "living spaces" with completely new interior concepts to meet entertainment, work and relaxation expectations.
A REAL3™ time-of-flight (ToF) camera is the best way to support growing demand for comfort and convenience while still delivering advanced levels of passive safety. Additionally, a ToF camera can reduce the BOM for other electronic systems such as seat mat and seat belt sensors.
Examples of enhanced comfort features enabled by REAL3™
Gesture control
Secure 3D face authentication (anti-spoofing) in combination with driver monitoring
Intentional in-cabin lighting so only the area the driver or passenger is reaching for is illuminated (e.g. knobs close to a human hand)
Automatic setting of pre-defined preferences
Recommendations for optimized mirror or seat positions
Dual display with customized content and features shown depending on driver or passenger
Optimized audio depending on head position and available occupants

Enhanced occupant safety features enabled by REAL3™
Driver monitoring with exact head position, eye-closure detection, gaze area segmentation
Driver out of position, driver distraction, fatigue, hands on steering wheel detection
Occupant detection and classification: exact size and weight estimations
Child presence detection
Smart airbag: adapt pressure or switch off depending on situation

Head position to airbag (e.g. changing seat positions such as lean back position during autonomous driving modes)
Rear-facing baby seat
Object on seat or carried by passenger

Fastened seat belt detection
Download our application brief: 3D in-cabin sensing, using the REAL3™ Time-of-Flight imager IRS2877A(S)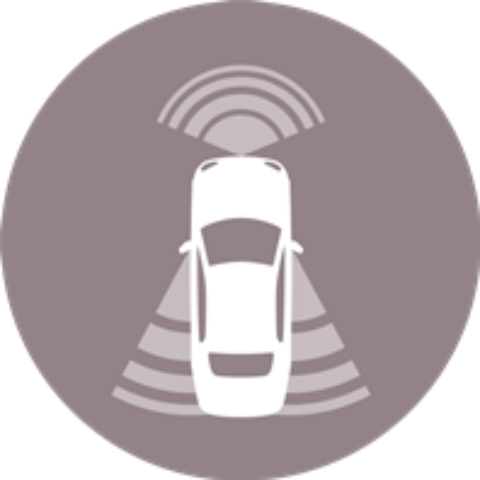 Autonomous and highly automated cars require a robust sensor cocoon around the car to sense and understand their environment. A combination of different technologies like radar, lidar and cameras are generally fused to create this effect. These sensors are very well suited to short- and long-range applications, but depending on the automated driving level (SAE level1-5), the requirements and the placement of the sensors, it may also be necessary to cover close-range blind spots down to the ground in order to complete the sensor cocoon. This calls for more detailed resolution and better performance than today's ultra-sonic sensors can provide.
A time-of-flight camera (ToF) leveraging flash lidar technology is the best way to realize a very small solution without any moving parts at comparatively low cost. It provides the most robust 3D visualization of the environment in high resolution (horizontal and vertical) over a range of up to 10m. Besides highly accurate depth data at pixel level, ToF imagers also support sunlight-independent amplitude pictures so the car can recognize signs on the street for example.
This reliable stream of 3D ToF data can be used to support a wide range of use cases around the car:
Obstacle Avoidance
Automated doors
Autonomous parking
Autonomous driving

Covering close-range blind spots around the autonomous driving sensor cocoon
Dynamic situational awareness during vehicle startup
Secondary sensor data stream to support autonomous driving modes
Keyless entry
Face recognition with secure 3D authentication