Overview
Eliminating fraud and identity theft with the electronic ID card of the future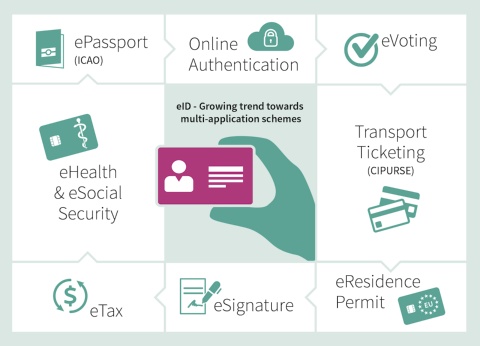 Worldwide, around 100 countries issue national identification cards. Many of these have already switched to an electronic document based on a microcontroller chip or are planning to do so. In fact, many nations have already rolled out their second-generation electronic ID. This digitalization move is being largely prompted by the desire to reduce fraud, counter identity theft and offer innovative new eGovernment services.
Unlike ePassports, which are highly standardized worldwide, national eID projects show huge regional variations in terms of functionality, design and communication interfaces. Some countries have straightforward eID cards in place while others integrate eVoting, eTax, eHealth and even public transport ticketing functionality.
Beyond the need to provide robust levels of security, biometric ID card issuers are challenged to support a growing number of converged, digitized services. This convenience promises not only greater administrative efficiencies at government level, but also greater satisfaction among citizens.
Partner of trust for today's ID card applications
At Infineon Technologies, we are committed to working closely with our customers, advising software developers using our platforms on the best solution to meet their security, functionality, interface and lifetime needs. Nowadays, typical national eID cards contain an application similar to an electronic passport, a digital signature function and an application for online authentication. Our platforms support a vast number of cryptographic methods to span the full multi-application spectrum.
Leading technologies for biometric IDs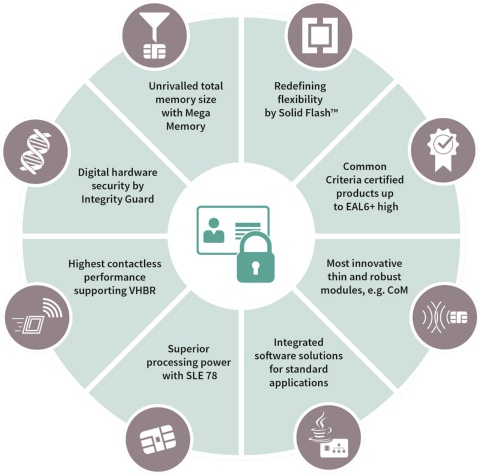 Our SLE 78 and SLE 77 products provide the root of trust in national eID projects, helping to reduce risk, build trust among citizens and enhance administrative efficiency. In addition, our SLE 78 architectures offer long-term security and technologies like Very High Bit Rates (VHBR) for best performance.
We complete our hardware portfolio with integrated, ready-to-go solutions supporting Java and native operating systems.
Our portfolio at a glance:
Our award-winning Coil on Module technology simplifies the production of security cards combining contact-based and contactless interfaces to support the growing trend towards multi-application schemes.