Overview
Hardware security solutions for fast, convenient and secured mobile identification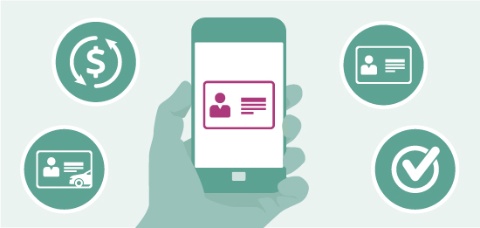 Mobile technologies are revolutionizing nearly all aspects of the public and private sectors, from dealing with the authorities to booking a rental car. As mobile devices become the preferred access point to online services, governments aim to follow suit by harnessing the potential of mobile ID solutions. But for a user to choose these cutting-edge tools over traditional identification and authentication methods, they must be fast, convenient and secured. Meanwhile, the industry has other concerns. It's looking for scalable, flexible and cost-effective products with a fast time-to-market. And the right security solution for the risk level at hand.
Trust the reputable security solution from Infineon
A successful mobile ID project that satisfies both users and the industry starts with the right security solutions from Infineon. Rely on our proven contactless security technology expertise to successfully migrate traditional eID use cases to the mobile world. Here, biometric personal data is stored in a secured eID document and is retrieved on an encrypted channel. The advantages of our mobile ID solution speak for themselves:
One device for all: payment, identification, public transport, loyalty program and more.
Sensitive data can be stored encrypted on our mega-byte chip.
Seamless migration of traditional eID documents thanks to our world-class contactless ISO14443 technology.
Storage and transmission of large volumes of data with leading Infineon Integrity Guard technology.
Selection of high-quality chips for a wide range of form factors: SIM card, embedded SE, microSD card, NFC-based mobile ID, Bluetooth Low Energy token.
Discover how Infineon's mobile ID security solution with a secured eID document can help you seamlessly migrate traditional eIDs to mobile devices.
Keyword: Form factor

Flexibility in terms of form factor allows a mobile ID solution can be used in a wide range of use cases. Ultimately, the needs of service providers and consumers determine which form factor to use, making it possible to implement mobile ID applications securely, and fulfill specific privacy and security requirements – wherever, whenever.