Government identification
Overview
Please choose a subcategory
Trustworthy, digital identity solutions

The market for government identification (ID) documents is increasingly moving from physical security elements that typically relied on paper or plastic to microprocessors. Across the full spectrum – from IDs and passports to voting cards and driving licenses – digital identity solutions have the potential to improve national security, limit identity fraud and enable more convenient, automated identification and authentication services for citizens.
However, the digitalization of identity documents also presents a number of challenges. Embedded chips must safeguard privacy by offering robust protection against unauthorized access. In addition, these cards must support flexible deployment scenarios to accommodate the growing number of multi-application schemes – combining eID with ePurse and eHealth, for instance. Performance is also key to meet rising citizen demands for convenience and speedy, contactless processing.
Partner of trust for today's government identification applications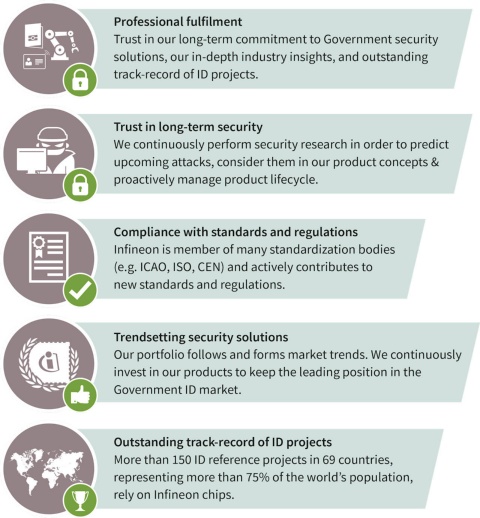 Having delivered over 150 successful ID reference projects the world over, Infineon Technologies has been leading the security market for more than 30 years. In Europe alone, more than 75% of national eID projects already rely on our chips and 60% of smart healthcare cards worldwide do the same.
Through close, long-term partnerships with our customers and our global support capabilities – also through our Contactless Competence Center – we have developed in-depth industry insights and the ability to develop solutions tailored to our customers' individual needs.
Our success is also attributable to best-in-class, future-proof technologies, high-speed contactless performance and memory scalability to suit different ID project needs.
In addition, we are committed to open standards to support the move towards multi-application cards.
State-of-the-art security technologies for future-proof eGovernment documents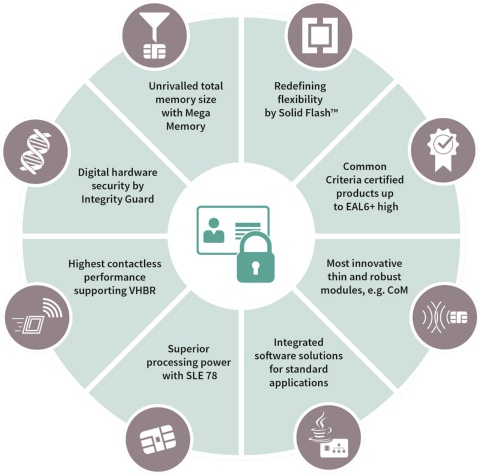 Our SLE 78 security controllers, for instance, come with Integrity Guard digital hardware security, SOLID FLASH™ memory and Common Criteria EAL 6+ security certification, making it a perfect match for today's governmental security requirements.
Our more cost-effective SLE 77 solution similarly builds on our proven sensor technologies and SOLID FLASH™.
In addition, customers can rely on us for integrated solutions bundling operating systems with application software for even faster time to market.
Our portfolio at a glance:
SLC52G security controller family: digital hardware security 'Integrity Guard'
SLE 78 security controller family: digital hardware security 'Integrity Guard'
SLE 77 security controller family
SLJ 52G family: Java Card™ platform on SLE 78
SLN 52G family: Native generic platform on SLE 78
SLJ 32G family: Java Card™ platform on SLE 77