ToF 3D image sensors for consumer and industrial
Overview
REAL3™ 3D image sensor based on Infineon ToF (Time-of-Flight) technology - powering the smallest depth-sensing 3D camera modules in the market
Infineon's REAL3™ image sensor family opens up a completely new world of exciting applications for devices deployed in consumer and industrialmarkets, while also setting new performance and security benchmarks for existing use cases.
The REAL3™ image sensors are based on Infineon ToF (Time-of-Flight), which is the most advanced vision sensing technology in the world today and is already powering the smallest depth-sensing 3D camera modules on the market.
Infineon's REAL3™ 3D image sensor delivers depth data in real time with a capture speed in the order of milliseconds; it is contact-less, fast and robust to ambient lightning conditions. Thanks to its patented technology for suppression of background illumination (SBI), REAL3™ supports camera deployments under all ambient light conditions. REAL3™ time-of-flight image sensors allow electronic devices to build a 3-dimensional map of the scene in front of the electronic gadget – whether that be a room, a moving or static object or a person – and translate that map to the digital world in real time. Advanced algorithms use that data to measure distance and size and to track motion and movements.
In addition, the single-chip REAL3™ imager brings a third dimension to biometric identification, to 3D scanning and to hand gesture and body tracking. Outstanding performance in 3D computational photography and augmented reality applications revolutionize the user experience.
Products
The REAL3™ product portfolio for consumer and industrial applications comprises dedicated single-chip 3D image sensors delivered in bare die form:
Complementary Products
The REAL3™ product portfolio also comprises imagers for automotive applications.
ToF 3D image sensor and efficient VCSEL driver.

The consumer grade ToF imagers are only available as bare die and targeting high volume applications. If you are looking for a complete ToF camera module to directly use the 3D pointcloud in your application we have a partner network of modulemaker and camera designhouses established.
If you are interested to find the right partner or to learn more about the REAL3 product portfolio please contact our Support Center by providing us some basic information about your application requirements.
Highlights
Press releases & market news
Dec 1, 2022 | Market News:
i-ToF imager based on Infineon's novel pixel technology
boosts 3D camera system performance at optimized cost
In cooperation with 3D Time-of-Flight specialist and premium partner pmdtechnologies is introducing the IRS2975C imager sensor, a performance-push evolution of the IRS2875C. The imager works according to the Time-of-Flight (ToF) principle known as indirect ToF (i-ToF) and is the first in the industry based on Infineon's latest advancements in pixel technology. Both form factor and the performance of the IRS2975C are tailored to the growing spot iToF applications, delivering highest possible operating range at optimal power budget. The new
i-ToF imager is ideal for consumer use cases in smartphones, service robots, drones as well as various IoT devices. Read more.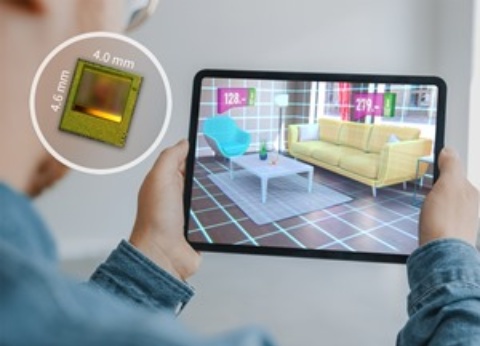 Oct. 27th, 2020 | Press release
State-of-the-art photography results and immersive AR experiences:
Infineon and pmd offer 3D-imager with longest range in the market
Gaming, virtual e-Commerce, 3D online education: Augmented Reality (AR) applications with three-dimensional depth sensors link the real with the digital world and are strongly demanded. Infineon Technologies AG and pmdtechnologies developed a 3D depth sensor based on the Time of Flight (ToF)-technology which outperforms other solutions in the market and aims for target applications that offer a wider spectrum of innovative consumer usability. The 3D sensor market in smartphones for rear side cameras is expected to grow up to more than 500 million units per year until 2024. Read more
Applications
The data provided by a Time-of-Flight camera can be used in a variety of applications:
Personal consumer electronics:
Smartphones and tablets
Head-mounted devices
Wearables
Social and entertainment robots
Edutainment
Home security and monitoring systems:
3D-Face ID door opener and access control
Area surveillance
People counting
Collaborative robots
Warehouse and delivery robots
Facial authentication