Overview
Advanced security solution powered by Infineon PSoCTM microprocessors and XENSIV™ sensors
Build better protection for homes and businesses with advanced security solution based on Infineon's sensor fusion-based smart alarm system (SAS) powered by Infineon PSoCTM and XENSIV™ sensors.
Infineon's SAS is a multi-layered security system that uses data from XENSIV™ microphones and XENSIV™ barometric pressure sensors coupled together with acoustic event detection (AED) technology, sensor fusion algorithms running on the PSoCTM family of microprocessors to provide true protection and monitoring against burglary, intruder as well and other acoustic events.
The system runs sophisticated machine learning Tiny AI algorithms that manage different events. These can be acoustic events, pressure events, or combined events into one sophisticated sensor fusion architecture. With Infineon's patent-pending concept of combining audio with pressure information, Infineon's SAS only acts when you expect it to. For example, in sensor fusion mode, both sensors have to be triggered at the same time to trigger the alarm.
The system is also more robust and cannot be triggered by various household sounds or background noise from a movie or other disturber sound source hence avoiding false alarms. Currently supported on the SAS are three events that the technology can protect against, namely:
Glass break – when a window or door glass is broken, the algorithm extracts the intensities in the frequency spectrum. At the same time, it captures the signature pattern of the change in pressure inside the room. The sensor fusion software synchronizes the outputs and triggers a glass break alarm.
Intruder – when all windows and doors are closed, there is a stable pressure inside the room. Opening or closing a window or door triggers a pressure change within the room. Each pressure event has a signature pattern. Therefore, opening or closing a door or window triggers an intruder alarm.

Monitor alarms emitted by smoke detector (T3) and carbon monoxide detector (T4). The SAS can be used to notify users when these T3/T4 alarms are activated, for example when there is nobody in a building or house when a smoke detector or carbon monoxide detector alarms.
The AED, in addition, can be used to save operating power. In this mode, the alarm system can be placed in a low power saving mode and only activated on key acoustic events such as the sound of glass breaking. This, coupled with PSoC6 microcontroller's deep sleep operation, allows battery powered operation and long battery life of the alarm system.
Products
Features
Advanced sensor fusion design to solve the real-world problem of current home, office, retail, and industrial alarms giving false alarms.
Advanced sensing technology to allow battery life operation to be equivalent or better than current less sophisticate solutions on the market today.
One sensor based on the Infineon smart alarm system technology can operate in typical room.
Benefits
Fewer false alarms means better customer satisfaction and less worry about their home security. If also means fewer or no false call to emergency services.
Battery life up to 5 years is possible (depending on battery configuration). This is in line and better than a lot of sensor on the market today.
The smart alarm system can monitor several alarm conditions such as glass break, intrusion detection and detection of house alarms. This means one alarm system based on Infineon's smart alarm system can replace multiple sensors doing those jobs today.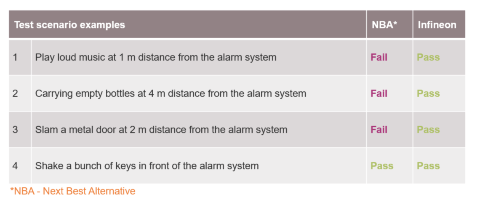 Infineon's patent-pending sensor fusion concept enables higher accuracy and precision for intrusion detection