USB-C power delivery (PD) – Power adapter, charger
Overview
Full USB-C power delivery standard with increased power levels for electronic designs
The USB-C PD standard (USB-C power delivery) allows the device to charge quickly via a USB connection. The specification caters to much higher power ratings than typical smartphone-based charging designs, as it is intended to power hard drives, printers, and displays, as well as larger portable electronics like laptops. In other words, it enables increased power levels from existing USB standards with support for >100W. Making use of the highest power modes also requires specially rated USB cables, as standard cables are only rated for 60W at most. In addition to faster charging, this USB standard enables both host and peripheral devices to provide power, the power direction is no longer fixed. Essential is the communication of a suitable Power Rule, i.e. the source and the host exchange their requirements to figure out how much power to transfer. A critical component of delivering higher power is the use of e-marked USB cable which will support 5A. In this way, power management across multiple peripherals is optimized. Each device is supplied only the power it requires (e.g. low power cases such as headsets vs a laptop being a high power case).
Discover the reference designs, boards, and design support documents.
Products
System diagram: USB power delivery
10W to 75W converter designs based on flyback topology or DCM PFC topology
The 700 V CoolMOS™ P7 offers a price competitive solution for consumer applications such as chargers and adapters in the power range from 10 W to 75 W. This product addresses the low power SMPS market where it tackles common barriers through excellent performance and ease-of-use. The named power converters are typically based on flyback topologies. 700 V CoolMOSTM P7 is a tailored technology optimized for flyback and DCM (discontinuous current mode) PFC applications. SOT-223 offers a smaller footprint while being pin-to-pin compatible with DPAK while achieving similar thermal performance.
The 600V CoolMOS™ PFD7 is dedicated to ultrahigh power density designs and offers up to 1.17 percent efficiency increase compared to the CoolMOS™ P7 technologies, which leads to a power density increase of 1.8 W/in3 . Its feature set includes a robust fast body diode, up to 2kV ESD protection, and low EMI.
Forced frequency resonant flyback controller for high-density adapters
The XDPS21071 is a digital PWM controller for high-density adapter applications based on DCM flyback topology. Check the reference design schematics for a 45W USB power delivery solution.
OptiMOS™ PD optimized for Sync Rectification
OptiMOS™ PD is an N-channel power MOSFET family meeting highest efficiency standards even in a compact 3x3 package, achieves a lower temperature in a 3x3 package compared to the next best alternative in 5x6. BOM cost reduction can be achieved as the parts are fully driven from 4.5V (low threshold voltage) by minimized on-state resistance, low gate, output and reverse recovery charges.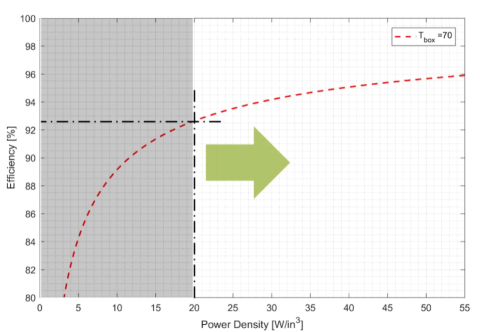 In a completely enclosed USB adapter, any size-reduction through high switching frequency or package innovation must go hand in hand with efficiency improvements to maintain low component and adapter case temperatures. The picture shows the relationship between power density and the minimum efficiency required to keep the adapter case temperature below 70°C for a 65 W adapter. It is evident that to increase the power density above 20 W/in3 , the converter efficiency must be above 92.5 percent. Typically, for chargers and adapters with universal input range (90 Vac-264 Vac) the most critical operating point to meet the minimum efficiency requirement is at:
Maximum continuous output power
Minimum input voltage (typically 90 Vac)
The reason for this is that at this operating point the conduction losses reach the maximum, resulting in a poorer overall efficiency compared to high input-line conditions.
The single-switch QR Flyback has been widely adopted in power adapter applications: it is operated in Discontinuous Conduction Mode (DCM), achieving Zero Voltage Switching (ZVS) at low-line and partial hard switching at high-line. However, the hard-switching operation occurring at high-line together with the lack of recovery of the transformer leakage energy limits the maximum switching frequency at which the adapter can be operated. In order to overcome these limitations designers are moving toward topologies embedding the following features:
Soft-switching (ZVS) operation, regardless of the input-line voltage and loading conditions
Recovery of the transformer leakage energy
Learn more about how to include ZVS operation in your design