Connected and smart lighting for IoT
Overview
Smart, energy-efficient and cost-effective connected LED lighting systems
Connected and smart lighting is a topic that has been getting high momentum during the past few years within the Lighting Industry. Key elements to realize energy savings, as well as new use cases that go beyond lighting controls, are sensors and connectivity.
For energy saving passive infrared sensors – in short, PIR sensors – are used. Novel sensors like radar can overcome weaknesses of PIR sensors like poor design, limited detection of micro-movements, and limited area coverage just to name a few. Radar sensors can be seamlessly integrated into the luminaires enabling nice design as well as platform design of luminaires since there is no need for drilling holes as in the case of PIR sensors.
Advanced use cases like people counting and people tracking can be also ensured with radar technology. In order to add more intelligence into the entire system, connectivity is a key element. Implementation of connectivity provides the following benefits:
Cost reduction by implementation of sensor hubs only at very few luminaires that serve as a master for the other luminaires – that serve as slaves
High computation power of a central control unit can be leveraged that again can serve as a master over all the luminaires
A central control unit potentially part of the Building Management System (BMS) or cloud can address advanced use cases that go beyond pure lighting control
Those use cases include asset management, i.e. via people counting the usage of meeting rooms, desks, etc can be analyzed and optimized
Products
System diagram: Connected and smart lighting
Bluetooth® Mesh and Wi-Fi solutions for connected lighting
Bluetooth® Mesh has become one of the key technologies for Connected and Smart Lighting due to its numerous benefits. One of the key benefits is that Bluetooth® devices that can be deployed as local control elements are ubiquitous. Further benefits are the availability of standardized mature BT mesh stacks and interoperability.
AIROC™ Bluetooth® Mesh networking has expanded the scale and scope of lighting applications. The range and coverage of AIROC™ Bluetooth® Mesh devices allow for low latency, whole building coverage of automation and occupancy interaction via smartphone and tablet applications as well as cloud applications for building management.
Infineon provides a range of AIROC™ Bluetooth® Mesh and Certified modules that enable lighting control functionality, safety, and occupancy sensor management, and robust, secure, reliable networked managed solutions. Learn more.
AIROC™ Wi-Fi & Combos use production-ready, fully-certified Wi-Fi + Bluetooth® combo modules based on both Linux and RTOS based platforms. Many of the Wi-Fi + Bluetooth® combos are supported on Infineon's WICED Wi-Fi and ModusToolbox Software Development Kits (SDK) which provide code examples, tools, and development support for easier and faster development. Learn more
Fully-certified mesh modules reducing development time and costs.
| | | | | |
| --- | --- | --- | --- | --- |
| Cost optimized | Size optimized | External antenna | Extended range | Extended temperature and range |
| | | | | |
| | | | | |
| | | | | |
Highlights
LED lighting portfolio overview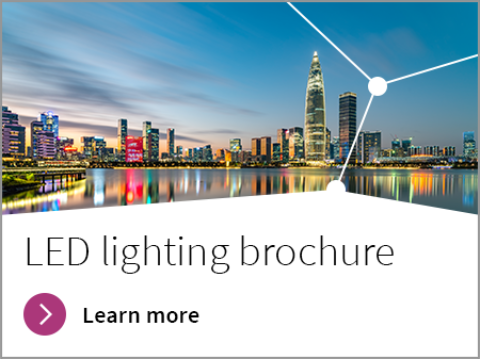 Here at Infineon Technologies, we are passionate about developing these exciting solutions for LED lighting design challenges.
This brochure covers our latest recommended products and schematics for LED drivers, LED strips and signage, and radar sensors for smart lighting.
Download now our Infineon LED lighting brochure